 Since Florida first cast its Electoral College votes for Zachary Taylor back in 1848, the Sunshine State has never been on a national presidential ticket–but that could be changing based on reports this week.
The Daily Beast reported on Thursday that "for several candidates, including at least one in the top tier, former Tallahassee Mayor Andrew Gillum is on speed dial" and that U.S. Sen. Elizabeth Warren, D-Mass., has reached out to the former gubernatorial candidate several times. Warren's team has pushed back against the report.
Warren's camp shot down the running mate buzz but insiders told the Daily Beast what could be prompting the calls.
"Two sources said the talks between Warren and Gillum resemble the kind of courtship that happens when a leading presidential candidate is exploring potential vice presidential contenders," the Daily Beast reported. "One source briefed on the communications said the two Democrats have been in contact over the course of the campaign and that it is the 'strong impression' that Gillum is a possible vice presidential contender for Warren, who has risen in recent months to become a frontrunner in the 2020 primary, the source said.
"If you're trying to win Florida, I would be courting Andrew and that's what's happening," a source "familiar with the conversations" told the Daily Beast.
This seems a little early to start seeing which Democrats are playing the veepstakes. While Warren is doing well in primary polls now, former Vice President Joe Biden is leading some polls and tied with her in others. Still, momentum seems to be on Warren's side for the moment, especially as U.S. Sen. Kamala Harris, D-Calif., and U.S. Sen. Bernie Sanders, I-Vt., seem to fade.
As an African-American Gen Xer from the largest swing state, Gillum balances the ticket for Warren in many ways but he also poses several liabilities. The most important job he ever had was mayor of Tallahassee–not exactly the kind of job experience usually sought after in the White House. This might be less important in recent years as the political success of Donald Trump, Ben Carson and Pete Buttigieg shows but it's still a factor. Warren will have a difficult time trying to claim the center and Gillum won't help her much on that front. While never formally accused of anything, Gillum's also been hindered by corruption in Tallahassee which has brought down several figures–including former Mayor Scott Maddox–in recent months. Though he kept things close against Republican Ron DeSantis despite Florida's strong economy last year, Gillum took his foot off the gas in the closing weeks of the campaign and left too much money in the bank that should have been used in the final days of the campaign.
Florida's been here before of course. Over the past half-century, Floridians are mentioned to be the understudy on the presidential ticket only for the prize to go elsewhere. Claude Kirk didn't get to be Richard Nixon's understudy in 1968 thanks, in part, to backing Nelson Rockefeller for the top job. Reubin Askew passed on being George McGovern's running mate. George H.W. Bush went with Dan Quayle instead of Bob Martinez. Bill Clinton went with Al Gore instead of Bob Graham in 1992. Bob Dole tapped Jack Kemp over Connie Mack in 1996. Graham was passed up again in 2000 when Gore went with Joe Lieberman. In 2012, Mitt Romney opted for Paul Ryan over Marco Rubio. Even with a depleted bench for Florida Democrats, Gillum is the only possible contender in the latest round of the veepstakes from the Sunshine State. It'll be interesting to see where this goes. The probable outcome: Gillum will be the latest in a long line of politicians from Florida to get some vice presidential buzz only to be disappointed at the end of the day.
Kevin Derby wrote this analysis. He can be reached at kevin.derby@floridadaily.com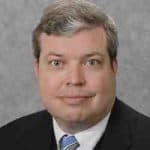 Latest posts by Kevin Derby
(see all)