The Florida CFO race has been off stage in recent weeks with incumbent Jimmy Patronis assured of the Republican nomination and former state Sen. Jeremy Ring facing no opposition for the Democratic nomination. But the race is starting to heat up with both sides taking aim at each other in recent days.
Having ignored Ring for most of the year, the Patronis team shifted tactics on Monday, launching an attack on his record in the private sector, including some of his ventures after stepping down as a vice president of Yahoo.
"Jeremy Ring's flops and failures with Florida businesses make him the wrong choice for Florida's finances," said Katie Strickland, a spokeswoman for the Patronis campaign, on Monday.
"Ring talks up his experience at Yahoo, but his business record in Florida tells a different story, with multiple business ventures flopping or failing just years after Ring started them or took control," Strickland continued. "Ring even admitted in 'no uncertain terms' to his multi-million dollar digital venture 'being a failure' when speaking to a group in 2008. Risky Ring is wrong for Florida's finances."
Ring fired back on Tuesday, stressing his record in the private sector and his time in Tallahassee.
"During my years in the tech sector, the early days of building Yahoo, I quickly recognized that some people simply were not afforded the tools they needed to build their social skills – and still others weren't given the resources they needed to navigate around their particular barriers," Ring insisted. "That is why, as a senator, I focused heavily on safe schools, efforts to curb bullying and school violence and the full inclusion of students with disabilities.  So imagine my surprise when, after the students of Parkland were devastated by a young man with known and diagnosed with mental health issues, I revisited the status of two responsibilities of the Florida Department of Education, only to find out that the agency has ignored both state and federal law."
"To date, the Florida Department of Education has not complied with federal law, requiring states to expand services to students with disabilities (like the Parkland shooter). And last October, the agency returned 18 million dollars to the federal government – funding that was meant to identify and support students with disabilities including mental health disabilities that may cause a student to hurt themselves or others," Ring continued. "As this is federal money, it doesn't go before the state Legislature like state general revenue funds do. Only Florida Department of Federal Services (DFS) and the governor could have provided a firewall."
Ring then tured his focus to Patronis.
"This begs the question," Ring added. "Why did the State's Chief Financial Officer – the sole firewall between taxpayers and government waste, fraud and abuse – not question the Florida Department of Education? My fellow Floridians, we need accountability – these are not simply facts and figures within a budget. They have potentially, literally life and death consequences."
"When I am your CFO – as I did in the state Legislature, when I introduced key legislation on the subject – I will hold all agencies accountable for properly implementing and complying with all federal and state laws.  And I'll be damn sure to call them out publicly before I sign an 18 million dollar check – of your hard earned money – back to the federal government."
First elected to the state House in 2006, Patronis served eight years before facing term limits. He was then named to the Public Service Commission (PSC) by Gov. Rick Scott. Last year, after Jeff Atwater resigned the state CFO post to take a job with Florida Atlantic University (FAU), Scott tapped Patronis to replace him.
Kevin Derby can be reached at Kevin.Derby@floridadaily.com.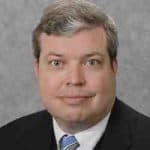 Latest posts by Kevin Derby
(see all)