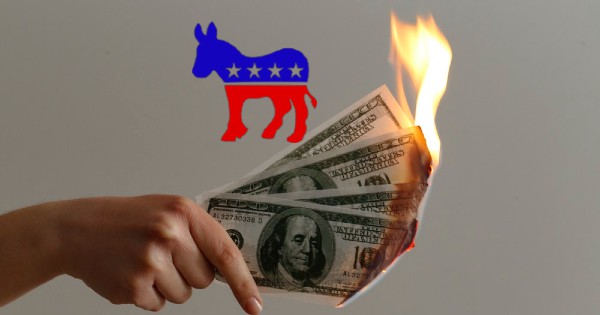 Fiscal watchdogs are blowing the whistle on the $3.5 trillion spending proposal that the Biden administration and Democrats on Capitol Hill have been pushing.
David Williams of the Taxpayers Protection Alliance offered his take on the spending.
"From spending $79 billion on empowering the IRS to conduct more audits, to 'tree equity,' funding for electric vehicles and spending billions on environmental and climate justice, it's become Christmas from what the Democrats have loaded up on this spending bill," Williams said.
Over the last two weeks, Williams and other tax reform groups have detailed the pork and other needless expenses inside the $3.5 trillion dollar spending package that Biden and the Democrats have dubbed "human infrastructure."
Americans for Tax Reform (ATR) recently listed billions of waste which have been inserted into the proposal including $79 billion for the Internal Revenue Service (IRS) to help strengthen tax enforcement activities and expand audits and $3 billion for a tree-planting program that increases "tree equity," with another $4 billion for "neighborhood access and equity grants."
Americans for Tax Reform President Grover Norquist said the spending is vague but "tree equity" is described as a tree-planting program that "identifies the cities that can gain the most significant health, economic and climate benefits by increasing tree canopy in places of high need."
ATR also pointed to $7.5 billion for climate change funding which includes the "Civilian Climate Corps" that would employ thousands of young people to carry out conservation and climate change-related projects on public lands; $5 billion for environmental and "climate justice" block grants given to disadvantaged communities; $1.4 billion in climate change research; $300 million for the federal government to conduct more efficient and effective environmental reviews by hiring more people and purchasing new equipment, among other measures; $12 billion to buy electric cars; around $7 billion to got to the U.S. postal Service to upgrade to electric vehicles; $25 million for race and gender-based issues which would go to nonprofit groups to help develop "anti-discrimination and bias training" inside the health care sector; and $15 million for national resource centers, primarily focused on providing services for older individuals who are underserved due to their sexual orientation or gender identity.
Biden's vaccine mandates have also been inserted into the proposed legislation and businesses that have more than 100 employees and have not mandated employees get vaccinated could be fined up to $700,000.
Biden and his allies have said the package would be around $3.5 trillion but the non-partisan Committee for a Responsible Federal Budget found the real cost stands around $5.5 trillion, including more than 2,500 pages of regulations and wasteful spending.