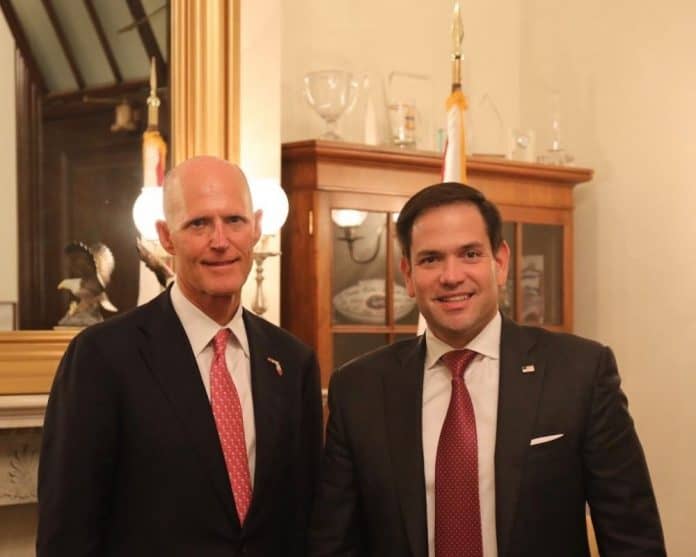 The Florida delegation weighed in to support Juan Guaidó and opposition to the Maduro regime this week after the Venezuelan regime's attempts to keep its opponents out of the National Assembly.
U.S. Sen. Marco Rubio, R-Fla., who chairs the U.S. Senate Western Hemisphere Subcommittee, weighed in after Maduro allies tried to take over the National Assembly.
"Today's assault by the despotic Maduro regime and his mercenaries is yet another move to undermine the only democratic body left in Venezuela, the National Assembly," said Rubio on Sunday. "Members of the National Assembly and interim President Juan Guaidó deserve tremendous credit for their unwavering defense of Venezuela's democratic institutions and the nation's future. As members of the GNB physically assaulted members of the National Assembly, they must be put on notice: The United States stands in support of the interim government led by Juan Guaidó and the democratically elected National Assembly."
U.S. Sen. Rick Scott, R-Fla., weighed in Monday, joining Rubio in insisting that Guaidó and not Maduro is the president of Venezuela.
"Maduro and his regime are demonstrating, once again, how desperate they are to hold on to power," Scott said. "Their attempts to use violence and intimidation to impede the fair re-election of Interim President Guaidó is disgraceful and won't be tolerated. Thankfully, Venezuela's political parties united in a strong showing of support for Juan Guaidó's re-election. The United States, and freedom-loving countries around the world, have recognized Juan Guaidó as the legitimate president of Venezuela, and this sad attempt to block legitimate elections won't stop our unwavering support. Maduro must go. Hopefully his actions yesterday will convince nations sitting on the fence that it's time to stand with those fighting for freedom, democracy and human rights."
Over in the U.S. House, Democrats from the Sunshine State also stressed their support for Guaidó.
"Nicolas Maduro continued his tyrannical rule today by holding sham elections in the National Assembly, Venezuela's last remaining democratic institution. Courageous members of the opposition, including interim President Juan Guaidó, were violently blocked from entering that building by Maduro's thugs. Thankfully, Guaidó and the brave opposition remain steadfast in their commitment to holding free and fair elections in the Assembly, and nationwide. The United States continues to stand behind Guaidó, Venezuela's true interim president, and all those who valiantly fight to keep Venezuela's democracy alive amid this horrific suffering and violent oppression," said U.S. Rep. Debbie Wasserman Schultz, D-Fla.
U.S. Rep. Donna Shalala, D-Fla., said she supports Guaidó on Tuesday.
"On Sunday, the Maduro regime reaffirmed its commitment to steamroll democracy when it held an illegitimate, sham election in the National Assembly and used its security forces to prevent opposition legislators and Interim President Juan Guaidó from entering the building. The interim government led by Guaidó remains the legitimate, democratically-elected government of Venezuela," Shalala said.
"As this political crisis and usurpation of democracy continues, we must also remember that Venezuelans are suffering from the largest humanitarian crisis in the Western Hemisphere. Congress has taken decisive action to work towards solving this crisis. As part of the single largest legislative effort to date, Congress passed the bipartisan VERDAD Act, which was signed into law in December. The VERDAD Act provides an increase of U.S. humanitarian assistance, reaffirms U.S. support for the interim President Guaidó, and strengthens tools to combat kleptocracy and human rights abuses, among other provisions," she added.
Shalala also called for the U.S. Senate to move to pass a bill offering refugees fleeing Venezuela Temporary Protected Status (TPS).
"As part of addressing this crisis, we must also grant Temporary Protected Status (TPS) to Venezuelans," Shalala said. "The House of Representatives decisively passed a bill granting TPS, but the bill languishes in the Senate. Meanwhile, President Trump has the authority to grant Venezuelans TPS today, but he continues to ignore those Venezuelans who have sought freedom in the United States."
Reach Kevin Derby at kevin.derby@floridadaily.com.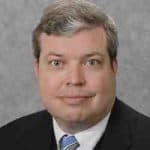 Latest posts by Kevin Derby
(see all)