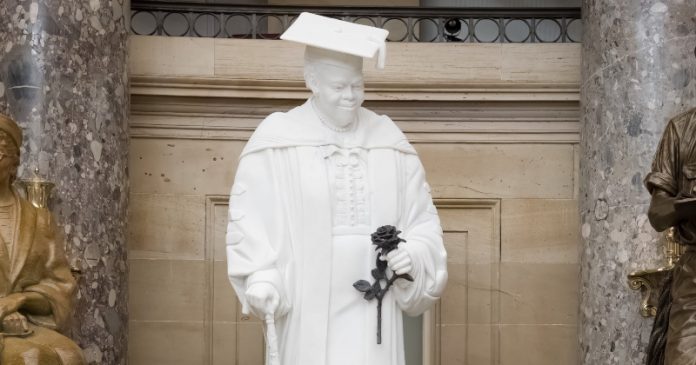 This week, the statue of Dr. Mary McLeod Bethune was unveiled to represent Florida in Statuary Hall in the Capitol.
The statue of Bethune replaces a statue of Confederate Gen. Edmund Kirby Smith. In 2016, the Florida Legislature passed a bill which then Gov. Rick Scott signed into law calling on the state to find someone to honor instead of Kirby Smith. In 2018, Scott, who was elected to the U.S. Senate that year, signed a bill authorizing the state to replace Kirby Smith's statue with Bethine.
In 2019, Gov. Ron DeSantis sent a letter to the Architect of the U.S. Capitol requesting to remove the statue of Kirby Smith and replace it with one of Bethune.
"Florida is proud to commemorate the 144th anniversary of Dr. Mary McLeod Bethune's birthday by sending our state's formal request to place her statue in National Statuary Hall, making her the first African American to have a state-commissioned statue," said DeSantis in July 2019. "Dr. Mary McLeod Bethune was an influential educator, leader and civil rights activist who became one of Florida's and our nation's most influential leaders. Dr. McLeod Bethune's statue will represent the best of who we are as Floridians to visitors from around the world in our nation's Capitol. Her legacy endures and will continue to inspire future generations."
The other statue representing Florida in Statuary Hall is Dr. John Gorrie, who lived in Apalachicola during the 1800s and is considered the father of air conditioning.
Members of the Florida delegation weighed in on Bethune's legacy at an event at the Capitol this week.
"Let me begin by recognizing my colleague, Rick Scott. When he was the governor of Florida, he was instrumental in making sure that this day became possible, and I think he deserves that recognition," said U.S. Sen. Marco Rubio, R-Fla. "Dr. Bethune wasn't just a great Floridian. She was a great American. An American who refused to accept that her humble beginnings or the color of her skin were a limit on her dreams and on her destiny. And an American who, in the face of the ignorance, the cruelty, and the prejudice of others, refused to surrender to bitterness or cynicism or despair.
"Here in this hall are displayed the statues that are meant to show visitors from across the country and all over the world each of our respective states' best men and women. But today we unveiled not just the statue of one of the greatest Floridians. We unveiled a statue of an American whose life exemplified our nation's long, historic, and ongoing 246-year journey to live up fully to the promise of our Founding," Rubio added. "And today, we unveiled a statue of an American who left for all of us an example of love, an example of hope, an example of faith in God. An example of a desire to live in harmony with others, to live in harmony with our fellow citizens. An example which our nation should follow now more than ever."
"As Florida's governor, I was proud to sign a bill in 2018 to commission a statue of Dr. Mary McLeod Bethune to represent our state in the U.S. Capitol and honor her leadership in education, which led to the founding of Bethune-Cookman University," Scott said. "Dr. Mary McLeod Bethune was a wonderful person and a great Floridian who represents the values of our state, and today her statue joins the company of so many of our nation's great and historic figures. I'm grateful for the work of sculptor Nilda Comas, Bethune-Cookman University, the Bethune Statuary Fund and Chair Nancy Lohman for all of their hard work leading to this historic day. Today is a day we all have been working toward for years. I am so proud to welcome the statue into our nation's Capitol, and I hope that American families will learn from her legacy for decades to come."
U.S. Reps. Val Demings, D-Fla., and Michael Waltz, R-Fla., introduced the bill in 2020 to welcome the statue into the Capitol and the National Statuary Hall Collection and they spoke on Bethune's legacy this week.
"Dr. Mary McLeod Bethune was the most powerful woman I can remember as a child," said Demings. "I am proud that Dr. Bethune will be Florida's new face in the U.S. Capitol and know that her lifelong commitment to education and civil rights will continue to inspire all Americans for years to come. I urge all Floridians to read Dr. Bethune's last will and testament, in which she wrote of the power of hope, love, faith, responsibility to our young people, and thirst for education. She worked to make America better for all people, and it is more than fitting that she should be here representing us in the People's House."
"What a great day for Daytona Beach, for Bethune-Cookman University, and for Florida for having the first ever and only African American representing our state right here in our Nation's capital," said Waltz. "I'm so proud of the Florida legislature, of then-Governor Rick Scott who signed the legislation to make this happen, to Governor Ron DeSantis who sent the request to allow us all to be here today.
"After she moved to Florida, she saw a need. She saw that the workers, the Black workers that were building the railroad, the Flagler Railroad that allowed Florida to one day be developed, weren't getting an education. She saw a need and she addressed it. She started a school with a dollar and fifty cents to train African American young girls and to teach," Waltz added. "It wasn't without challenges, though. In one of the stories, the KKK, after the school was up and running, came marching on the small girls' school with torches, with robes and on horseback. She already had a plan. She told her teaches to disperse, she hid her students, and she stood alone at the gate and stared them down.
"In my military career I've seen some tough cookies, some tough women, and I guarantee you this is the toughest one in the Hall today," Waltz continued. "And if that wasn't enough, then she became a member of President Roosevelt's Cabinet and a developed a lifelong friendship with Eleanor Roosevelt who came to stay in Daytona Beach. She became a national leader in one generation. From daughter of slaves to national leader for women and civil rights.
"I think her greatest contribution is her last will and testament. She says I leave you love; I leave you hope; I leave you a thirst for education; I leave you faith. She said our aim must be to create a world of fellowship, a world of justice where no man's skin color or religion is held against him. She said that faith is the first factor of in a life of devoted to service. Without faith, nothing is possible and with it, nothing is impossible," Waltz said in conclusion.
Other members of the Florida delegation also praised Bethune this week.
"Today, we are rewriting the history we want to share with future generations. We are replacing a remnant of hatred and division with a symbol of hope and inspiration by placing Dr. Mary McLeod Bethune in statuary hall, among our nation's historical giants," said U.S. Rep. Frederica Wilson, D-Fla. "As the senior Black member of Congress from Florida, I am extremely proud to break yet another glass ceiling in this hallowed hall of democracy and celebrate the legacy of Mary McLeod Bethune who leaves behind a legacy that dwarfs any one statue we can erect."
"Today, on behalf of a grateful nation, Dr. Mary McLeod Bethune will now permanently stand tall among historical giants where she belongs in National Statuary Hall in the U.S. Capitol. Her entrance into this collection makes her the first Black American to be commissioned by a state, and I am proud that she will now represent the people of Florida in this sacred location," said U.S. Rep. Byron Donalds, R-Fla.
"As a Black American, I am particularly grateful for her invaluable contributions to Black Americans and the nation," Donalds added. "As one of the most revered Black educators in history, a civil and women's rights leader, and a pioneer for the advancement of Black Americans, she worked tirelessly to ensure our nation lived up to our God-given purpose and potential. While she has roots in several states, her remarkable life and legacy will now forever represent the great state of Florida—and we are honored to have that privilege."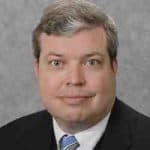 Latest posts by Kevin Derby
(see all)