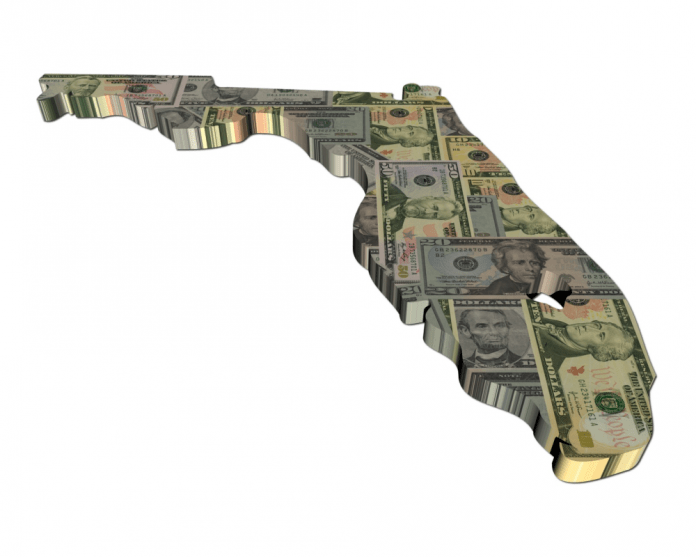 While the Sunshine State is no longer at the top of the list, Florida continues to score when it comes to state fiscal policy.
The Mercatus Center at George Mason University is one of the country top rated think tanks which focuses on US and state fiscal policies. Every year, Mercatus lists a "State Fiscal Rankings" report.
Eileen Norcross, the vice president of policy research at the center, and Olivia Gonzalez, a research associate, say this latest report is special since it was compiled a decade after the Great Recession. The report focuses on states and how well they have been holding up financially in the past decade.
The authors note that "top performers…are states with high levels of cash solvency, revenues that exceed expenses, net assets remaining after debts are paid, and low unfunded pensions, other post-employment benefits and debts relative to resident income."
Last year in 2017, Florida ranked as the number one state in the nation when it came to fiscal health. The state dropped to fourth in the current rankings.
While the Sunshine State scored lower, Mercatus notes that Florida does very well compared to most other states and when compared to the national average.
Florida ranks fourth when it comes to cash solvency, which shows the state has enough on hand to cover its short-term bills, which include accounts payable, vouchers, warrants and short-term debt.
When it comes to budget solvency, Florida ranks sixth. The state can cover its fiscal year spending using current revenues.
Turning to service-level solvency, Florida came in fifth. This details how high taxes, revenues, and spending are when compared to state personal income, including examining if states have enough "fiscal slack." It also examines if spending commitments demand more revenues, are states in a good position to increase taxes without harming the economy and if spending compares to the tax base.
On trust fund solvency, Florida ranked seventh. This measures how much debt a state has, including unfunded pension liabilities and OPEB liabilities compared to the state personal income.
While overall, Florida ranked very high, the Mercatus findings showed areas where the state could improve, including long-run solvency which shows whether a state has a hedge against large long-term liabilities and enough assets available to cushion the state from potential shocks or long-term fiscal risks. Florida place 17th on this front.
Florida is easily the largest state in the top five. Nebraska leads the states followed by South Dakota, Tennessee, Florida and Oklahoma.
Illinois ranked at the bottom followed by Connecticut, New Jersey, Massachusetts and Kentucky.
Contact Ed at Ed.Dean@FloridaDaily.com.