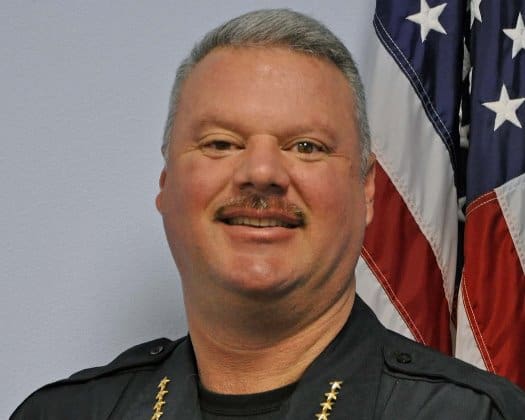 Satellite Beach Police Chief and Florida Police Chiefs Association President Jeff Pearson joined Gov. Ron DeSantis in Tallahassee this week to announce plans to "Paint the Town Blue" for National Police Week from May 9 to May 15. Pearson also commented on Desantis' leadership and support of law enforcement, and recent law enforcement-related legislation.
The full text of Pearson's remarks are below:
"On behalf of the Florida Police Chiefs Association and over 900 of Florida's top law enforcement executives from across every region of the state, we want to thank Governor DeSantis for his unwavering support for Florida's law enforcement. All Floridians should be thankful for his commitment to maintaining public order and keeping the peace.
Next week, May 9 to May 15, is National Police Week, a time when we honor those who have made the supreme sacrifice with their lives to protect the freedom of others and preserve law and order. Since the inception of this event in 1963, over 24,000 police officers have lost their lives while protecting others.
The Florida Police Chiefs Association is honored that Governor DeSantis will "Paint The Town Blue" and illuminate the Old Capitol complex in blue lights for the entire week as a visible token of his support for the dedicated service and courageous deeds of law enforcement officers, and the contributions they have made to the security and well-being of all people.
We ask all Floridians to follow Governor DeSantis' lead and join him by lighting your residences, businesses, and communities in blue during the week of May 9.
In a year like no other, law enforcement remained steadfast to serve and protect, even sometimes at the risk of their own families' wellbeing, and so we also want to thank Governor DeSantis for proposing and delivering $1,000 bonuses for first responders, in recognition of the hardships endured by those who served over the past year.
The Florida Police Chiefs Association also thanks Governor DeSantis for his leadership on House Bill 1, that will help law enforcement better protect the lives and property of every Floridian.
Violent and disorderly assembly; destroying property; harassing and threatening citizens going about their business; attacking law enforcement… these are all unacceptable.
House Bill 1 addresses these issues head on, and will ensure that peaceful protestors can safely exercise their constitutional rights without the threat of having their voices hijacked by the violent actions of others.
Finally, because our mission is to continuously enhance law enforcement professionalism in the State of Florida, the Florida Police Chiefs Association established a Subcommittee on Accountability and Social Change, hosting over 23 meetings with community leaders since June 2020 to review law enforcement practices and determine how we can better serve our customers – the community.
Thanks to the legislature, including the members here with us today, HB 7051 will soon be on its way to your desk Governor. This legislation builds on many of the Subcommittee's recommendations, and is the right way to address reform: factual and balanced, ever mindful of the dedication and sacrifice of law enforcement officers but equally committed to public safety and accountability.
With your strong and consistent leadership, Governor, we know that law enforcement can count on you, the Florida Police Chiefs Association can count on you, and most of all, the people of Florida can count on you, today and tomorrow."
Latest posts by Florida Daily
(see all)