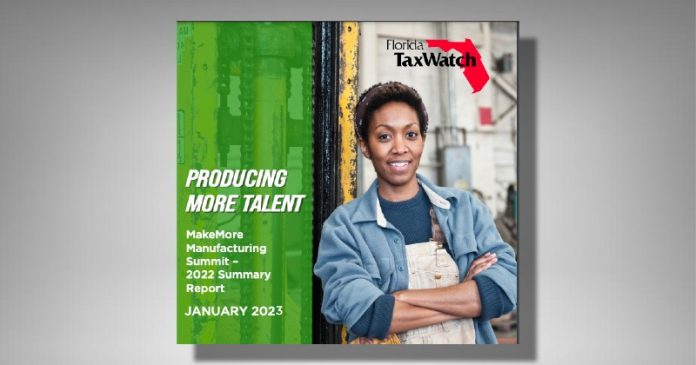 This week, in partnership with Associated Industries of Florida, CareerSource Florida, the Florida Chamber of Commerce, Enterprise Florida, and FloridaMakes, Florida TaxWatch (FTW) released a report entitled "Producing More Talent: MakeMore Manufacturing Summit 2022 Summary Report."
The report summarizes presentations made at the fourth annual MakeMore Manufacturing Summit in October 2022, themed "Producing More Talent," as well as focus group discussions held prior to the Summit among representatives from a variety of companies across the state that depend on a strong manufacturing workforce.
The Florida Legislature Manufacturing and Supply Chain Caucus met in the Senate Chamber of the Florida Historic Capitol Museum (Old Capitol) on Tuesday morning, where Florida TaxWatch Senior Vice President of Research Bob Nave presented this report.
Florida TaxWatch President and CEO Dominic Calabro also weighed in on the report this week.
"Florida TaxWatch has long recognized the importance of the 56.1-billion-dollar manufacturing industry in Florida and the work being done by FloridaMakes, the manufacturing extension partnership for the state. The MakeMore initiative in particular helps advance the state's manufacturing industry and solidifies its role as a key driver of future job growth and economic strength," Calabro said.
"Florida's manufacturing ecosystem has been focused on talent development, including building the talent pipeline, bridging the skills gap, and making manufacturers more competitive so they can attract and retain skilled employees. The purpose of the 2022 MakeMore Manufacturing Summit was to provide a collaborative platform for producing a roadmap that manufacturers could take back to their communities, establishing a cohesive effort to elevate and grow interest in, or hopefully passion for, this critical industry," he added.
"Florida TaxWatch values these conversations and those facilitated through the stakeholder focus groups, as they are intended to lead to action that promotes Florida's economy and benefits hard-working taxpayers. Without business, manufacturing, and jobs, there is no dynamic community. We look forward to seeing how the Florida Legislature Manufacturing and Supply Chain Caucus will build on the manufacturing ecosystem's ideas during the upcoming legislative session," Calabro said in conclusion.
FloridaMakes CEO Kevin Carr offered his take on the report.
"FloridaMakes is proud to partner again with Florida TaxWatch in the release of this report. The increasing success of the manufacturing industry is important to the future of our state. We are glad to be releasing this report at a meeting of the Manufacturing and Supply Chain Caucus to help increase the awareness of the importance of manufacturing and making things to the state legislature and the public," Carr said.
According to FTW, manufacturing provides Floridians with high-wage jobs, and annual wages across the industry averaged almost $70,000 in 2021. Moreover, there were 417,500 manufacturing jobs in Florida as of August 2022 – an increase of 27,800 jobs when compared to the same time the previous year – with most concentrated in the northeast, central, and southeast parts of the state. In fact, more than one-half of all the industry's jobs are located in seven counties: Miami-Dade (more than 40,000); Orange and Pinellas (more than 33,000 each); and Hillsborough, Broward, Brevard, and Duval (more than 24,000 each).
In addition to summaries of presentations made at the 2022 MakeMore Manufacturing Summit, with topics ranging from "Changing Dynamics of the Labor Market" to "Advocating for Workforce Solutions," the report outlined S.M.A.R.T. (specific, measurable, achievable, relevant, and time-bound) recommendations that FTW offered related to talent development:
Provide more grants to attract entrepreneurs to build Florida's advanced manufacturing and Industry 4.0 technology capabilities.
Increase appropriations for training/upskilling opportunities by at least 25 percent during the 2023 legislative session.
Implement a short-term, Pell-eligible training program that is not part of a degree program.
Find funding to support the transportation of students to site visits to manufacturing facilities.
Remove the restrictions around CareerSource Florida training dollars to be able to spend them where needed.
Reduce the paperwork requirements for existing apprenticeship programs to make them easier to implement.
Change the name of the "apprenticeship" program to the "development" program.
FTW also noted the following takeaways from the stakeholder focus groups. Participants shared that manufacturers and the manufacturing ecosystem need to:
Utilize more "nontraditional" methods of building the talent pipeline.
Do more to get students excited about a career in manufacturing.
Step up their marketing and messaging efforts.
Make sure that, once talent has been recruited, every effort is made to develop and keep it.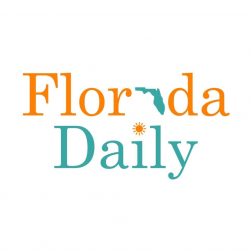 Latest posts by Florida Daily
(see all)