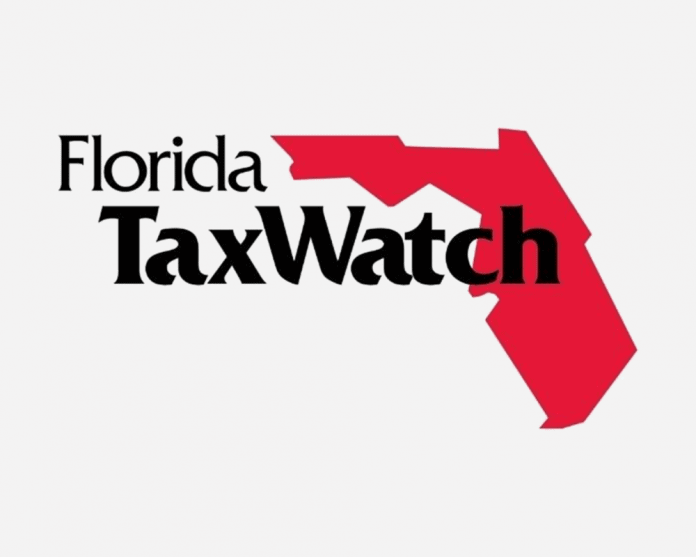 Florida TaxWatch released a bevy of suggestions for state legislators to combat the pandemic, including spending cuts, returning money to taxpayers, collecting more revenue and protecting businesses to try and get them back to pre-pandemic levels.
"There are many opportunities in a $92 to $93 billion state budget to reduce expenses, keep them under control," Florida TaxWatch CEO Dominic Calabro told Florida Daily, emphasizing it will take discipline, stressing that leaders like state Senate President Wilton Simpson, R-Tribly, and state House Speaker Chris Sprowls, R-Palm Harbor, have decisions to make. "I think it's mainly the concern of Senate President Wilton Simpson as well as the chairs in the House and Senate."
Florida TaxWatch is proposing that Simpson and Sprowls eliminate all member projects from this year's budget. This would save billions but it would anger lawmakers and also remove a key lever leadership uses to keep its members voting on priorities deemed most important by the governor and by each chamber.
With a projected budget deficit of at least $2 billion, something will have to give.
"There is no doubt coming out of this pandemic that Florida has much to do to bring our state back, but I am confident that our elected leaders with the guidance provided by TaxWatch will be able to do so," said former U.S. Sen. George Lemieux, R-Fla., the current chairman of Florida TaxWatch.
Florida TaxWatch has released suggestions on revenue as well, calling for collecting sales tax on goods sold online and a one time amnesty for non-compliant taxpayers. TaxWatch noted that when this was done in 2010 more than $277 million was collected. The group also wants to see a new compact with the Seminole Tribe for gambling revenues. Reaching a new deal to tax slot machines could raise $350 million or more each year for Florida. The previous deal expired and then-Gov. Rick Scott was unable to reach a new deal with the tribe.
Florida TaxWatch also wants to stop paying in cash for some projects.
"We are really blessed that we have a Triple-A bond rating," Dominic Calabro tells Florida Daily, saying more projects should be bonded. "It's an important measure because we keep a focus on keeping spending under control. No matter how prosperous the economy is, it is of no value if spending is out of control."
Florida CFO Jimmy Patronis launched a different push because of the pandemic.
"The sky was the limit back in January. Over the last 12 months, we've seen such dramatic changes, and over the last 10 months how much more extraordinarily challenging it has been at so many different levels," Patronis said.
Patronis is leading the fight for a bill that would provide immunity for businesses from lawsuits related to COVID 19.
"COVID liability is not to be an invincible shield", said Petronis, describing the bill as a protection for the good actors. It is far more comprehensive than that though and would even require a doctor to testify that their patient caught the disease at a particular business before a lawsuit could go forward, making it difficult, if not impossible, to sue.
The bill has the support of the state's biggest business groups, including the Associated Industries of Florida (AIF) and the National Federation of Independent Businesses (NFIB).
Florida TaxWatch has also released a report with suggestions on how to cut the state budget.
Reach Mike Synan at mike.synan@floridadaily.com.
Latest posts by MIKE SYNAN
(see all)