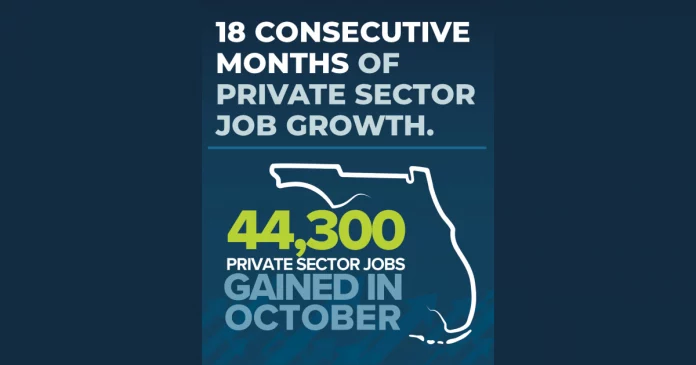 At the end of last week, Gov. Ron DeSantis announced that the unemployment rate in Florida stood at 4.6 percent in October.
The new statistic is down from 4.8 percent in September, a revised number. Originally, the Department of Economic Opportunity projected the unemployment rate in September to be 4.9 percent.
During October, the national unemployment rate stood at 4.6 percent.
In total, Florida has gained 1,111,000 private-sector jobs since April 2020, which represents 89 percent of jobs lost during the pandemic that have been recovered. Florida continues to see increases in labor force, growing 579,000 over the year. Florida's unemployment rate has lowered over the year, decreasing by 1.2 percentage points. Data in the month of October indicates that there continue to be many job opportunities available for Floridians throughout the state, with more than 518,000 jobs posted online.
"Florida's economy continues to grow faster than the nation because we put the needs of Floridians and businesses first and make smart policy decisions that push back against heavy-handed mandates," said DeSantis. "With 18 consecutive months of job growth and 12 consecutive months of labor force increases, we will continue to make investments that move our economy forward."
"Florida continues to see job growth, increases in the labor force, and a decline in unemployment rate thanks to Governor DeSantis' policy decisions to protect Floridians and their jobs," said Secretary Dane Eagle of the Florida Department of Economic Opportunity. "Floridians and businesses remain confident in the state's economy, and as evidence of that confidence, Florida's current participation in the labor force of 10,590,000 is actually larger than Florida's February 2020 labor force of 10,461,000."
The industries gaining jobs over the year included leisure and hospitality (+135,100 jobs, +13.7 percent); professional and business services (+73,900 jobs, +5.5 percent); trade, transportation, and utilities (+70,600 jobs, +4.0 percent); education and health services (+49,700 jobs, +3.8 percent); financial activities (+31,000 jobs, +5.2 percent); other services (+28,900 jobs, +9.0 percent); construction (+17,900 jobs, +3.2 percent); manufacturing (+8,600 jobs, +2.3 percent); information (+8,200 jobs, +6.4 percent); and total government
Monroe County had the state's lowest unemployment rate in October at 2.5 percent, followed by St. Johns County at 2.9 percent, Wakulla County at 3.1 percent and Okaloosa County, Nassau County, and Santa Rosa County all at 3.2 percent each.
Hendry County had the highest unemployment rate at 6.3 percent in Florida in October, followed by Putnam County at 5.9 percent, Highlands County and Hamilton County at 5.4 percent each), and Osceola County at 5.3 percent.
Latest posts by Florida Daily
(see all)