On Monday, state Sen. Joe Gruters, R-Sarasota, the chairman of the Republican Party of Florida (RPOF), turned to a former member of the Trump administration to lead the GOP in the Sunshine State.
Gruters announced that former acting U.S. Veterans Affairs Sec. Peter O'Rourke to be the executive director of the RPOF. O'Rourke served in both the Navy and the Air Force.
"Peter O'Rourke brings significant political and managerial experience to the RPOF. President Donald Trump fully endorses Peter assuming leadership over the RPOF, as does Governor DeSantis. The RPOF will work hard to register new voters and mobilize the Republican faithful so we can deliver Florida for President Trump and win key legislative races in 2020," Gruters said.
Gov. Ron DeSantis praised O'Rourke on Monday.
"President Trump holds Peter O'Rourke in high regard and I am impressed with his experience and ability. I look forward to working with Peter at the RPOF to help the president carry Florida and to win key House and Senate races. The president personally endorsed Peter and I believe we will have a united front going into 2020," DeSantis said.
"I humbly thank Governor DeSantis and Chairman Gruters for the opportunity to serve as executive director of the Republican Party of Florida. Florida is critical to securing victory for President Trump and we must unite all party resources to achieve our mission. I look forward to working with party leaders within the state and across the nation to launch a formidable operation and leave no doubt that Florida has swung from purple into the red," O'Rourke said.
O'Rourke led Strong America Now, a non-profit advocacy group which focused on "bringing efficiency and innovative solutions to federal and state governments" during the 2012 elections. He has also been involved in the private sector.
After being named as chief of staff to the VA, O'Rourke rose to become acting VA secretary for two months last summer in the aftermath of Trump firing VA Sec. David Shulkin. But O'Rourke was forced out at the VA, where he was named a senior advisor after his stint as acting secretary, at the end of last year with the Washington Post and Washington Examiner reporting that he drew a $161,000 salary despite doing little work.
Reach Kevin Derby at kevin.derby@floridadaily.com.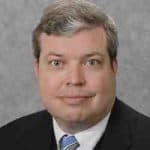 Latest posts by Kevin Derby
(see all)