 This week, former U.S. Rep. Steve Southerland, R-Fla., returned to the political stage, calling on the Florida Legislature to focus on the continued needs of the northern part of the Sunshine State.
Southerland, now the chairman of Stand Up North Florida which defines itself as a "grassroots coalition that was formed to advocate for equitable allocation of resources to the region," spoke before the state Senate Appropriations Subcommittee on Agriculture, Environment, and General Government on Tuesday about the region's economic and environmental needs. The former congressman focused on how North Florida continues to recover from Hurricane Michael which slammed into the area six months ago.
"People in my county, citizens, an hour and a half from where you sit today, are still living in tents…it's difficult to watch," said Southerland. ""I love these people, and they are hurting, and our story must be told."
Southerland told the subcommittee that the hurricane wiped out almost 3 million acres of timber in the Panhandle and Big Bend which cost the region $3 billion. He also noted more than two-thirds of homes in Panama City–69 percent–were damaged by the hurricane while Bay County schools lost 4,000 students. Southerland also stressed how the hurricane hurt the medical services in the area, noting that Bay County's largest hospital laid off almost 1,000 people and 50 doctors have left the area.
Looking ahead, Southerland stressed that fires could pose a major problem to the area.
"Three weeks ago, we had our first fire. So after being knocked down, now we're being burned," he said. "Six hundred fifty acres burned in Bay County, and it hasn't started getting warm yet. These are the challenges that we are facing. In spite of these damages, Congress has failed to act. I have to kick the body I was a part of. Politics make me sick when people are hurting."
Turning to the environment, Southerland noted that North Florida is where most of the springs in the state are. However, he said, 95 percent of state conversation dollars are spent south of Orlando.
The former congressman also weighed in on infrastructure, calling for widening Highway 20.
With deep family ties in the area, Southerland worked in the private sector until 2010 when he defeated then U.S. Rep. Allen Boyd, D-Fla. After holding off Democrat Al Lawson in 2012, Southerland was defeated by Gwen Graham in 2014.
During his two terms in Congress, Southerland played a key role in the GOP caucus as a bridge between tea party conservatives and the Republican leadership.
Kevin Derby can be reached at Kevin.Derby@floridadaily.com.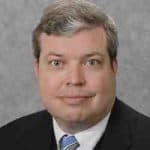 Latest posts by Kevin Derby
(see all)