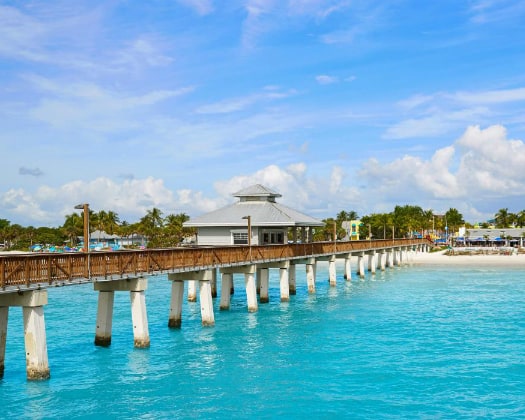 Four Florida cities finished in the top 10 list of U.S. News & World Report's 2020 Best Places to Retire.
Fort Myers claimed first place out of 125 cities, followed by Sarasota. Other Florida cities in the top 10 included Port St. Lucie and Jacksonville, which ranked fifth and sixth respectively.
"Fort Myers, Florida, tops the list due to increases in desirability, health care quality, job market strength and happiness,"  US News & World Report noted. "Sarasota, Florida, jumps from No. 3 to No. 2 this year, due to increases in desirability, health care and job market scores, despite falling in the areas of happiness and housing affordability."
Miami was included among the 10 most populous metro areas in the country and ranked 14th overall.
"Deciding where to retire is an important part of your life plan," said Emily Brandon, the senior editor for retirement at U.S. News & World Report. "When considering potential retirement spots, you should look for an affordable cost of living, proximity to health care services and a strong economy, especially if you plan to work part-time. The Best Places to Retire includes information about housing affordability, access to quality hospitals and job market strength that can help you find a retirement spot that will meet your needs."
According to US News & World Report, the 2020 Best Places to Retire were determined based on a methodology that factored in happiness, housing affordability, health care quality, desirability, retiree taxes and job market ratings. These measures were weighted based on a public survey of individuals across the U.S who are nearing retirement age (ages 45-59) and those who are of retirement age (60 or older) to find out what matters most when considering where to retire. Survey respondents said happiness and housing affordability were their most important criteria when selecting a retirement spot. Data sources include the U.S. Census Bureau and the Bureau of Labor Statistics and the magazine's rankings of the best hospitals.
2020 U.S. News Best Places to Retire Rankings – Top 10
Fort Myers, FL
Sarasota, FL
Lancaster, PA
Asheville, NC
Port St. Lucie, FL
Jacksonville, FL
Winston-Salem, NC
Nashville, TN
Grand Rapids, MI
Dallas-Fort Worth, TX
Latest posts by News Desk
(see all)