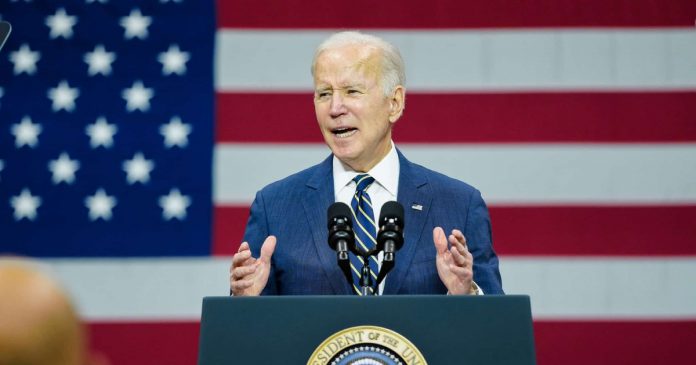 A New York Times/Sienna College poll shows President Joe Biden's approval stands at 33 percent and 64 percent of Democrats want a new nominee for 2024.
The poll shows only 26 percent of Democratic voters saying the party should renominate Biden in 2024. The New York Times reported the poll shows an "alarming level of doubt" from Democrats on their chances with team Biden for 2024.
With Democrats looking to keep control of both chambers of Congress in November, 88 percent of voters believe the country is on the wrong track.
Independents, who helped elect Biden in 2020, have jumped ship with 66 percent of them disapproving of his job performance.
Some Democrats have dismissed the poll, noting it showed the president still has around 70 percent of the party faithful, but the New York Times insists "a relatively low figure for a president heading into the 2022 midterms."
Biden, the oldest man ever elected president, is failing to connect with younger voters in his party as the poll showed 94 percent of Democrats under the age of 30 want a different nominee in 2024.
Despite those numbers, the poll showed Biden leading former President Donald Trump 44 percent to 41 percent in a potential 2024 matchup with 92 percent of Democrats backing the president.
Some Democrats base is displeased with Biden, thinking he is not going after the GOP on issues like abortion, gun control and climate change.
A poll from Monmouth University taken at the end of June and released at the start of month shows voters are not focused on many of the top issues Democrats are pushing and are concerned more about the economy, inflation and gas prices.
A third of voters–33 percent–said inflation was their top concern with 15 percent saying gas prices were their top issue while 9 percent pointed to the overall economy.
A majority of those surveyed–57 percent–said that the actions of the federal government over the past six months have hurt their family when it comes to inflation. A majority of those surveyed–54 percent– of Americans said the middle class has not benefited at all from Biden's policies.
Only 5 percent of those surveyed said their top issue was abortion, though Monmouth started surveying voters before the U.S. Supreme Court struck down Roe v. Wade. Only 3 percent pointed to gun control as their top issue.