 As Floridians get ready to hit the road for Christmas, they will find low prices at the pump across the Sunshine State.
AAA released a report on Friday showing gas prices averaged $2.26 a gallon across Florida on Thursday, 10 cents a gallon lower than last Christmas and some areas–including stations in Jacksonville, Orlando and Tampa Bay–are seeing prices below $2 a gallon. Over the past two months, the average gallon of gas in Florida has dropped more than 55 cents.
With 5.3 million Floridians hitting the highways between now and New Years Day, residents of the Sunshine State are seeing the lowest prices at the pump they have seen since August 2017.
Across the nation, the average gallon of gas cost $2.35 a gallon as prices continue to drop thanks to a host of factors.
"The global oil market is considered oversaturated, as crude production from the U.S. and many other countries have hovered near record-highs, outpacing demand," AAA noted. "There is uncertainty in the market about global economic growth, creating a bearish sentiment on fuel demand. Futures prices were dragged lower by virtue of weakness in equity markets, after the Federal Reserve added a quarter point to the benchmark interest rate on Wednesday, and concerns of a government shutdown were renewed on Thursday. Oil prices are the lowest since July 2017."
"A holiday road trip will become even more affordable, as AAA forecasts another round of falling gas prices," said Mark Jenkins, a spokesman for AAA and the Auto Club Group. "Wholesale gasoline plummeted on Thursday, which will reduce the cost for retailers to buy and sell gasoline. Unless the market turns around, drivers should see gas prices fall another 5-15 cents, during their holiday road trips."
Panama City continues to outpace the rest of the state with the most expensive gas in Florida with prices averaging $2.60 a gallon followed by Miami at $2.44 a gallon and the West Palm Beach-Boca Raton market at $2.42 a gallon. The Villages had the least expensive gas in Florida at $2.14 a gallon followed by Orlando at $2.15 a gallon and Jacksonville at $2.16 a gallon.
Kevin Derby can be reached at Kevin.Derby@floridadaily.com.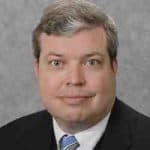 Latest posts by Kevin Derby
(see all)
Marco Rubio, Cory Mills Team Up on Bill to Crack Down on Illegal Gold Mining

- September 23, 2023, 9:00 pm

Jared Moskowitz, Garret Graves: Time to Get FEMA Out of DHS Control, Make a Cabinet Level Agency

- September 22, 2023, 8:00 pm

HUD Offers Almost 30 Waivers to Help State, Local Governments With Hurricane Idalia Recovery

- September 22, 2023, 10:00 am