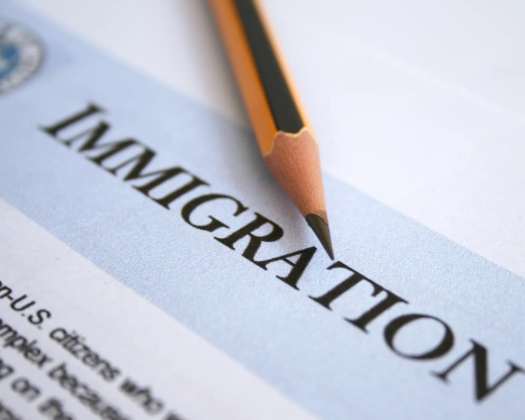 As Florida works to rein in illegal immigration, we will have a reliable ally in the White House. That's crucial, because without President Trump's bold initiatives on border security and internal enforcement, all of Florida's efforts might come to nothing.
Governor Ron DeSantis recently put Florida in the vanguard of the fight against illegal immigration by signing an important law against so-called "sanctuary cities."
Florida has been fortunate that only one jurisdiction, Alachua County — home to Gainesville and the University of Florida — has taken it upon itself to deliberately impede federal immigration enforcement.
That doesn't, however, detract from the necessity of sending a strong signal to open-borders activists and liberal politicians throughout the state that "sanctuary" policies, especially non-compliance with Immigration and Customs Enforcement (ICE) "detainers," will not be tolerated in Florida.
In other states, most notably California, "sanctuary" policies have grown and grown until they effectively negate state-level enforcement completely. Because of the contempt for ICE detainers in these jurisdictions, criminals like the illegal alien who murdered Kate Steinle are drawn like a magnet, knowing local law enforcement will not turn them over to the federal government.
In Florida, on the other hand, the new law that DeSantis just signed mandates that detainees be turned over to ICE for deportation whenever the federal government informs our police that they are believed to be in America illegally.
Unfortunately, the illegal immigration crisis cannot be completely solved at the state level. We need strong allies in Washington if we are to have any hope. For one thing, when other states have tried to take independent action, they've gotten slapped down by the courts because the U.S. Constitution grants authority over naturalization and national defense to Congress.
When Arizona tried to aggressively enforce immigration laws on its own, for instance, the Supreme Court ruled that the federal government has exclusive jurisdiction in most aspects of immigration enforcement.
Florida's new anti-sanctuary law avoids the complications that doomed Arizona's law, and represents the pinnacle of state-level best practices for combating illegal immigration.
Yet, even if a state such as Florida were able to dramatically step up local enforcement of federal immigration laws, doing so would be like trying to hold back the tide with a picket fence. Without a secure border, our gains would simply be washed away in a flood of new illegal immigration, because every illegal alien we deported would be able to return with relative ease.
Luckily, as long as President Trump is in the White House, Florida does not need to go it alone.
From the first minute of his presidency, Donald Trump has made it his top priority to end the Washington establishment's decades-long disregard for our borders and immigration laws. Two new federal initiatives born out of that commitment in recent weeks promise to significantly ease Florida's struggle.
First, against incredible opposition in Washington, President Trump used one of America's strongest bargaining chips — punitive tariffs — to pressure the Mexican government into becoming a partner in solving the border crisis that it spent decades helping to create.
The results were immediate and dramatic. Before the tariffs were ever put in place, Mexico agreed to deploy 6,000 troops to stop Central American "caravans" and secure Mexico's own southern border with Guatemala. Illegal immigrants who manage to make it through this new barrier hundreds of miles from America's own border will encounter aggressive efforts to stop the free northward flow of would-be illegal aliens across Mexico's interior.
These new measures, along with existing agreements allowing the waves of mostly fraudulent asylum seekers who are overwhelming America's immigration courts to remain in Mexico while their claims are processed, will contribute immeasurably to ending the lawlessness on the border that feeds Florida's illegal immigrant population.
Second, President Trump just announced that ICE will soon carry out a coordinated, nationwide effort to apprehend and deport the more than one million illegal aliens who are already subject to orders of removal. While Florida can't take that sort of initiative on its own, our new law against sanctuary policies ensures that state and local officials will assist the federal government in its efforts to protect our communities.
In Ron DeSantis, Floridians elected a leader who is committed to fulfilling our state's role in combating illegal immigration. Fortunately, we also elected a president of the United States who will make sure that the federal government upholds its own obligations by securing the border.
Dr. Gina Loudon, Ph.D. (@RealDrGina) is a bestselling author, columnist, and frequent news commentator. She was a Trump delegate to the Republican National Convention and currently serves on the Donald J. Trump for President Media Advisory Board.
Latest posts by Guest Columnist
(see all)