With reports out that congressional candidate Amy Pope Wells lost her nursing license, the Northeast Florida Republican pushed back this week and offered details on why she let it expire.
Politico Florida reported that Wells had been stripped of her license by the North Carolina Board of Nursing more than a decade ago.
"Republican Pope Wells, who is primarying Rep. Ted Yoho, lost her nursing license in 2006, reports Arek Sarkissian of Politico Florida," Politico Florida noted. "The public North Carolina Board of Nursing database shows that Pope Wells lost her license after American Nursing Services reported that she had falsely represented herself as a registered nurse. Pope Wells, identified as Pope Morton in the board's cease and desist letter, held the title of licensed practical nurse, a credential expired in 1998. 'You do not now have nor have you ever held a North Carolina registered nurse license,' the letter states."
Wells spoke to Florida Daily on Wednesday and insisted her "license was voluntarily inactive since 1998" since she took on an executive position in a company and was no longer working in the field as a nurse. She said she left that company in 2005 and found herself being asked about the license due to a fight over a non-compete agreement and other employment disputes.
"When I go back through it, it's unfortunate," Wells said. "My license was always clean….the board of nursing never took my license away."
Turning to her credentials, Wells said she was a licensed nurse and never claimed to be a registered nurse. She said she went to the North Carolina Board of Nursing to refute the accusation that she claimed she was an RN and was not seeking reinstatement. Wells insisted she was not trying to get reinstated since she had already taken on other duties.
"I'm a nurse by education and was a licensed nurse," she said. "I came before them to clean my name."
Turning her focus towards the campaign, Wells said she "excited" as she continues her bid and promised to run a clean campaign. Pointing to her background owning staffing companies, Well said her experience allows "active, positive engagement" with members of her community and she will stay in constant communication with voters if she is elected. Wells also said her experience with staffing will help her concentrate on jobs and the economy which she called important issues.
"We can do some great things, we really can," she said. "I want people to have a positive engagement with a congressional member."
Wells, who is from Green Cove Springs, launched her bid for the Republican nomination back in April. U.S. Rep. Ted Yoho, R-Fla., currently holds the seat but, when he first ran in 2012, he promised to serve only four terms in Congress and not run for a fifth in 2020.
Wells has ties to the White House, being named to a group helping the United States-Canada Council for the Advancement of Women Entrepreneurs and Business Leaders. According to the new candidate's campaign "in this role, she met with the President, the Vice President, Ivanka Trump and Small Business Administrator Linda McMahon to further opportunities for women business owners and operators."
When she kicked off her campaign, Wells stressed her support of President Donald Trump.
"I am an anti-politician who will bring a fresh perspective, new ideas and a principled approach with me as I seek to represent District 3," said Wells. "I will stand with President Trump as he engages on these important issues and many others to the benefit of the American people and the residents of District 3."
Wells and her husband Craig own Link Staffing and PayDay HR Solutions. In addition to her career in the private sector, she has also served as the chairwoman of the Clay County Chamber of Commerce and chaired the Clay County Sheriff's Office Quality Task Force. Back in 2017, then Gov. Rick Scott named her to the board of the Clay County Development Authority. Last year, Wells cochaired the Women's Coalition in support of Ron DeSantis' gubernatorial campaign.
Yoho's district brings in parts of North Central and Northeast Florida including Clay County and parts of Gainesville. Joe Millado, a former congressional aide, is also running for the Republican nomination.
Kevin Derby can be reached at Kevin.Derby@floridadaily.com.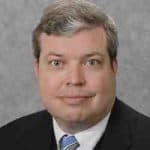 Latest posts by Kevin Derby
(see all)