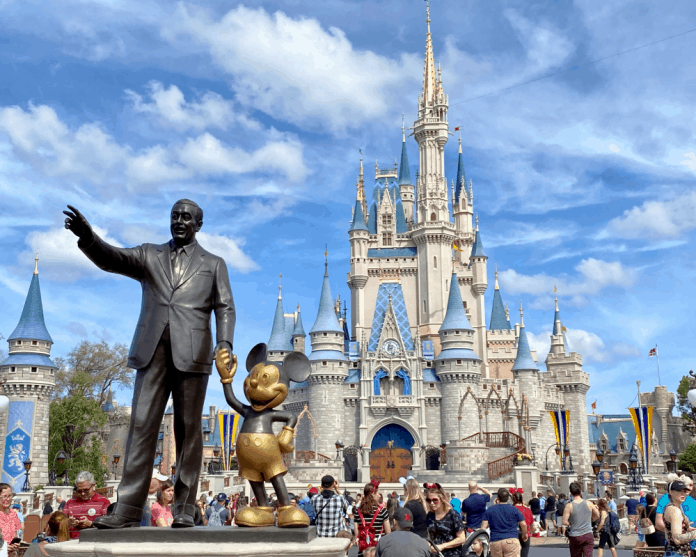 A leading health expert has offered insights about Disney World's plan to reopen and whether or not people will be safe inside the theme parks.
Dr. Anthony Harris is the medical director at WorkCare and has long advised theme parks on health and safety issues. He reviewed Disney World's plan to reopen and was impressed with just how comprehensive the plan was. Harris told Florida Daily he believes the plan can work as he offered tips for park staffers and guests.
"Make sure you have your masks in place for helping protect the public and being aware of your surroundings. Are the people around you appropriately wearing their masks?" He said everyone should try "to stay appropriately socially distanced" and use "sense when you are standing in line."
With its theme parks reopening this week, Disney published its plan which has markings on the ground to keep people socially distanced, requires masks in its theme parks, provides many sanitation options and relies on limited attendance.
Harris noted there is one concern he has with the plan–namely whether guests to the parks will go along with it.
"What we need to have now…is to see how the public adheres to it, how well they are able to perform these certain basics while they are in the parks," he said. "That, obviously, is a big unknown and can translate to transmission risk."
Harris said it all comes down to human behavior. For example, theme parks have planned for areas where guests can remove their masks. Harris believes those areas will work well if the theme parks enforce the social distancing measures that are required there.
Asked by Florida Daily how theme parks will get guests to comply and flatten the virus curve, Harris offered some insights.
"It really is just reminders, reminders, reminders and then speaking to a higher level of appeal," Harris replied. While fear is "the great motivator", Harris said scaring people into compliance can only work for around two weeks. "Fear is not a great motivator in terms of overall, sustained behavioral modification."
Harris said theme parks will need to make a higher appeal to achieve long term success, including appealing to family and country. While Harris is not traveling right now because of pre-existing medical conditions with his own family, he said other Americans should go to the theme parks if they are comfortable with the idea.
"If the question is can you travel from Chicago to Florida and do so safely, the answer still is yes," he said.
Harris did not suggest any extra safety protocols for people staying in hotels other than the ones that are already in place: wearing masks, hand washing and social distancing.
"We don't have to be, necessarily, in that same level of lockdown that we have historically been if, again, the big if, if we are able to execute on adhering to those protocols," Harris said.
Since cases are surging in the Sunshine State, Florida Daily wanted to know if Harris has been able to find any correlation between reopening the parks and increased cases.
"When things open up, there is a potential for an increased number of exposures and transmissions," he said. "Whether that is a direct result of what is happening with the theme parks, that is yet to be seen."
Harris told Florida Daily that he believes "the jury is still out" and that a study will have to be done retrospectively.
While Harris said wearing masks are important, he also insisted that so are other safety protocols, especially social distancing.
"It's going to be all of us playing a key role in how we help stem the tide of this rise," he said.
Reach Mike Synan at mike.synan@floridadaily.com.
Latest posts by MIKE SYNAN
(see all)