 On Thursday, Jacksonville businessman Gary Adler announced he was running for the Republican nomination to challenge U.S. Rep. Al Lawson, D-Fla.,
Adler stressed his career in the private sector and his community involvement as he launched his bid.
"As a businessman, I understand how to make our economy work for every American," said  Adler. "We need leaders who will boldly tackle our biggest problems and find innovative solutions to better the lives of all Americans.
"Congress is out of touch  – and I'm running to make a change,"  Adler added. "I'll work hard each and every day for the citizens of my district, and I'll never forget who my bosses are."
A longtime leader in Tallahassee, Lawson was first elected to the Legislature back in 1982 and served in both chambers until 2010 when he faced term limits in the Senate. In his final two years, Lawson led Democrats in the upper chamber.
Lawson turned his eyes to Congress and challenged sitting U.S. Rep Allen Boyd, D-Fla. in the Democratic primary back in 2010. Boyd edged Lawson in the primary but went on to lose in November to Republican Steve Southerland. Lawson tried again two years later and won the nomination but Southerland beat him by 6 percent.
Despite making noise in 2014 that he would try for a rematch with Southerland, Lawson sat the race out only to see fellow Democrat Gwen Graham beat the Republican. In 2016, Lawson challenged scandal-plagued U.S. Rep. Corrine Brown, D-Fla., in the Democratic primary and, after she was indicted on corruption charges, defeated her 48 percent to 39 percent.
Lawson did not have long to sit on his laurels since he immediately faced a challenge in the 2018 Democratic primary by former Jacksonville Mayor Alvin Brown. When the smoke cleared, Lawson held off the challenge by an impressive margin, winning 60 percent to 40 percent.
Sitting in what is regarded as a secure district for Democrats, Lawson's district stretches from Jacksonville through North Florida to Tallahassee and Gadsden County. Despite that, Lawson faces a host of challengers as Isaiah Abenchuchan, Albert Chester and LaShonda "LJ" Holloway have lined up against him in the Democratic primary. Adler will face Virginia Fuller, Matthew Lusk and Roger Wagoner on the Republican side.
Reach Kevin Derby at kevin.derby@floridadaily.com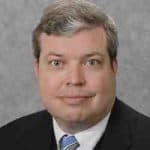 Latest posts by Kevin Derby
(see all)