The Jacksonville Chamber of Commerce (JAX Chamber) threw its support behind Jacksonville Mayor Lenny Curry as its JAXBIZ PAC-backed Republican for a second term.
Curry is in solid shape to win reelection next year but outgoing City Council President Anna Brosche is considering challenging him
In the meantime, JAXBIZ threw its support behind Curry as chair Dane Grey praised the mayor in the endorsement on Tuesday.
"Mayor Curry is committed to growing jobs in our community and making sure everyone has the opportunity to thrive," Grey said. "Whenever there is an opportunity to meet with a company looking to invest in our city, Mayor Curry and his team are there."
Grey pointed to a host of reasons why JAXBIZ was backing Curry including his efforts to shore up city pensions, working with the state government and helping develop downtown Jacksonville.
"We have momentum and we need to keep building on it," Grey said. "We thank Mayor Curry for his bold leadership and we look forward to working with him for another four years."
Curry beat then Mayor Alvin Brown, the first Democrat to serve as mayor of Jacksonville since Mayor Ed Austin's tenure in the early half of the 1990s,  back in 2015. Before that, Curry led the Republican Party of Florida (RPOF).
While he is a favorite to win a second term, Curry does have opposition. Democrat Doreszell "DC" Cohen entered the race in November. Back in April, former Atlantic Beach Commissioner Jimmy Hill, a Republican, launched his campaign. Independents Vishaun Grissett and Connell Crooms are also running for mayor. Curry filed to run for a second term in March and most early polls show him in solid shape with Jacksonville voters.
The first round of the election is scheduled for March 19, 2019 and a runoff round, if needed, for May 14.
Kevin Derby can be reached at Kevin.Derby@floridadaily.com.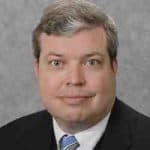 Latest posts by Kevin Derby
(see all)