Credit: Zane Hall
On Nov. 14, Gary Ervin attended a vigil for a young life cut tragically short by gun violence. Days earlier, a 15-year-old was killed in a shooting near a Burger King on the northwest side of Jacksonville.
Ervin's voice trembles with emotion as he recalls standing among the mourners as they cried and prayed. Now 47, he thinks of himself at that age. "I should be dead," he says.
Ervin is a supervisor at Bridges to the Cure, a Cure Violence program, run by the Northwest Jacksonville Community Development Corporation. NJCDC is one of two sites for the Cure Violence program that launched in the city last June.
The program, founded in 2000 in Chicago, uses a public health approach that treats violence like an infection that begins with a shooting, spreads to family and friends seeking retribution, then to others and so on. To stop the infection, it hires violence interrupters like Ervin — people with credibility in the streets, some with a criminal past — to try to stop violence before it occurs.
A violence interrupter program may seem a strange fit for a nonprofit that began as a residential real estate developer focused primarily on first-time homebuyers, but the goals actually align. Crime and economics are, after all, intertwined. The nonprofit NJCDC is dedicated to community revitalization in one of the areas of the city where opportunity is scarce and crime is high.
Ervin himself embodies the change that NJCDC is working to create.
Ervin was 15 years old the first time he went to jail. For years he was in and out of a cell. He's sold drugs. He's shot people. "I've been one of the highest-ranked gang members on the block," he said. He was most recently released from prison in 2015.
In the last five years, Ervin has turned his life around. He's working a straight job for the first time in his life. Thanks to NJCDC, he's a homeowner. The encouragement of NJCDC CEO Paul Tutwiler led Ervin to start working toward his GED. He used to be ashamed to admit that while his street education taught him math, he didn't know how to read until recently.
"If you asked me how to read, I would freeze," he said with pride. "… Now I can read to my children."
For a long time, Ervin didn't see any future beyond selling drugs. Now through his work with Bridges to the Cure and coaching kids in a nearby football team, he is trying to inspire the next generation to aspire to life outside of crime.
A problem with no easy solutions
Jacksonville has struggled with violence for decades. Although this sprawling coastal city has seen violence and crime decrease with the rest of the nation over the last few decades, murder rates per capita have remained consistently higher than most cities. Last year's 158 homicides, according to the Florida Times-Union, made Jacksonville yet again the murder capital of Florida. The local sheriff's office reports 130 were murders; as of Jan. 1, more than a dozen homicides hadn't been classified. The vast majority of victims are black males.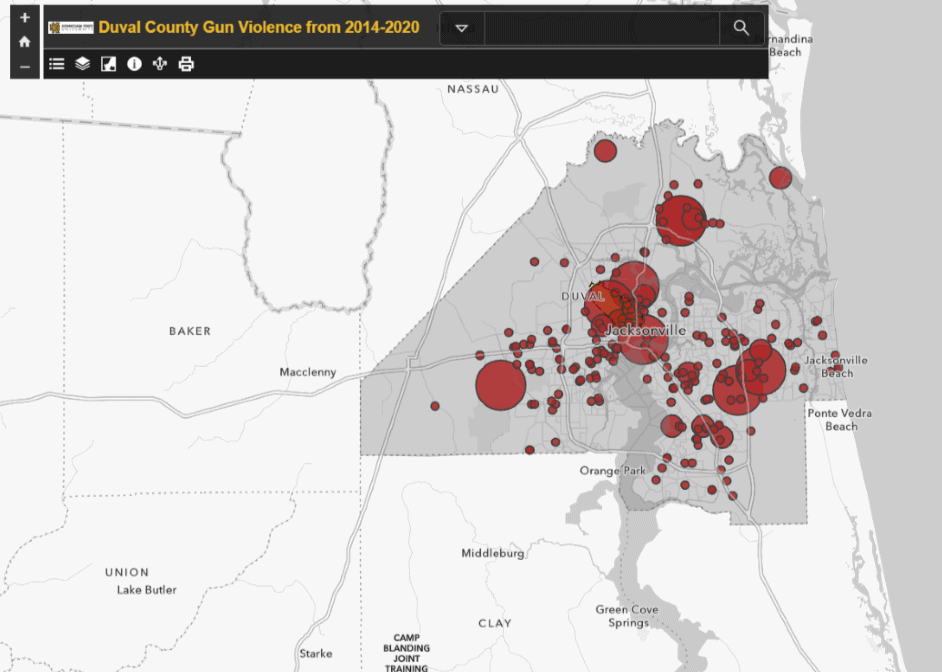 In the 32209 ZIP code where NJCDC is located and its work is focused, the homicide rate is even higher than the rest of the city. In 2017, the most recent year for which the T-U's homicide tracker has geographic data, there were 26 murders here — or 73 per capita. That's a higher rate than every other city in America; if 32209 was a nation unto itself, that year it would have also had the highest murder rate in the world.
Other metrics — poverty, health, infant mortality, property value, education — demonstrate the struggles in a community that was once home to many of the city's affluent black residents, who called their neighborhood Sugar Hill.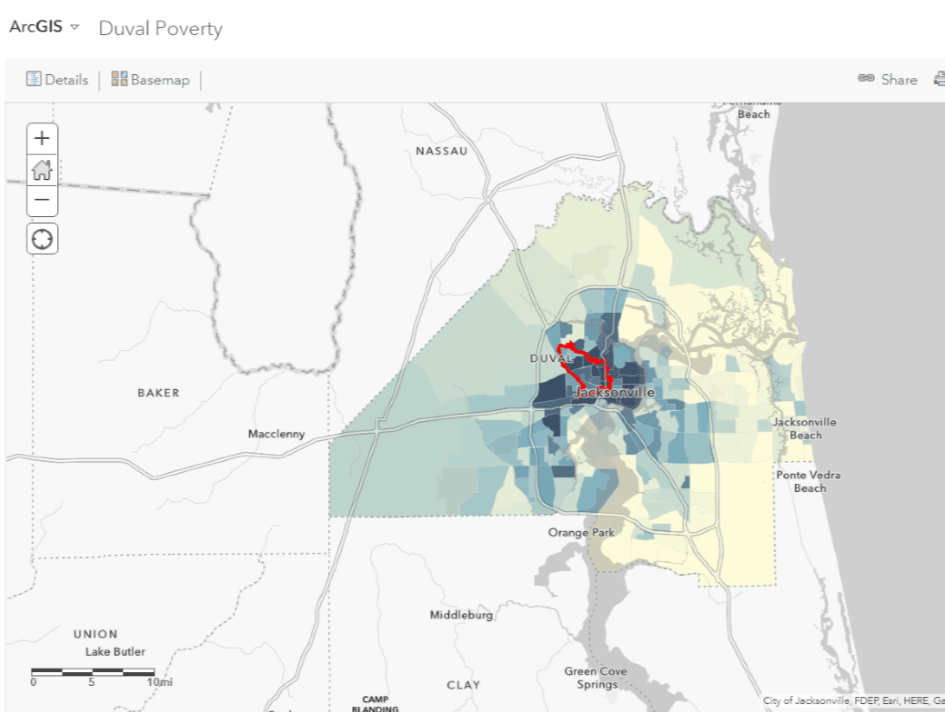 Desegregation in the 1950s, followed a decade later by the consolidation of city and county governments, drained wealth from Jacksonville's black communities, as those with the means migrated to areas that were once nearly all-white suburbs.
By the turn of the century, northwest Jacksonville was a ghost of its former self. Crime was stubbornly high. Opportunities were few. The sweetness of Sugar Hill was gone, but not forgotten.
Building their way out of crime
Paul Tutwiler, 59, took the helm of NJCDC in 2002. At the time the organization was dedicated to residential real estate development.
"Largely we were trying to 'build our way out of crime,'" Tutwiler said.
Much of the property that NJCDC develops comes from the city, which donates lots that are vacant and often in disrepair. By turning crumbling, abandoned buildings that serve as a magnet for unlawful activity and blight into single-family homes, it thought it could accomplish its twin goals of lowering crime and improving values.
The nonprofit sold its first home in 2004, which began a period of prosperity. Tutwiler says there were a lot of successes in those early years, thanks in part to the contemporaneous housing boom. Crime went down, blight started to disappear and property values went up. NJCDC's developments inspired neighboring residents to improve their own homes.
"Our first house we sold for $70,000. At peak market that same house went for $135,000," Tutwiler said. "So we were like, 'yes.'"
They also started to see wealth migrate back to the community.
Sheila A. Preston, 65, was one of NJCDC's early clients. She'd been a homeless couch surfer — she calls it "pillow to post," after a 1945 film about a traveling saleswoman looking for a place to sleep — for about two years when a friend's daughter told her about NJCDC.
"I don't think [Tutwiler] knew I was homeless," she said.
NJCDC requires potential homebuyers to have a $500 deposit and to qualify with a bank for a loan. Preston had the money; like many homeless people she was employed, and her credit met the threshold for the bank's underwriters.
In August 2006, she became a homeowner. "I had a place to lay my head," Preston said.
Today she's retired, but keeps busy volunteering at her church, with the elderly and at NJCDC. She says Tutwiler is a visionary.
"He is rebuilding a better neighborhood," she said.
Fueled by home buyers like Preston who bring stability to their neighborhoods, which has a ripple effect on other residents, Tutwiler says crime fell by up to 40% on some blocks they developed.
"That was our plan, and we were really excited about making that happen," he said.
Then the bottom fell out of the real estate market.
New approach inspired by the Great Recession 
All sectors of the economy were deeply impacted by the Great Recession, but none more than the housing market. Home values plummeted, foreclosures skyrocketed and new mortgages slowed a trickle.
The financial decline caused some reversals in NJCDC's successes. Much as in the decades after desegregation, more affluent residents started moving away. Crime increased.
During this time, NJCDC concluded that no matter how many homes it built or remodeled, residential development alone wasn't going to be enough. Tearing down a crack house doesn't eradicate the drug trade; it just moves it elsewhere. By the same token, it had to deal with existing residents.
"Building alone will not help us change the neighborhood, we have to kind of deal with the residents that are embedded here. We can't ignore it," Tutwiler said.
It needed to think bigger and broader.
One of the challenges, he said, was and continues to be figuring out how to bring back an economic base. Houses are great, but if people don't have jobs they can't buy them. Similarly, commuting is an option, but people prefer to live, work and play in one neighborhood. None of that happens in isolation.
This was the beginning of what has evolved into a holistic approach to community revitalization. In addition to real estate development, today NJCDC and its partners provide services and opportunities geared toward education, job training, nutrition and reducing violence.
NJCDC received Neighborhood Stabilization Program (NSP) funds during recession recovery and a sizable grant from the Local Initiatives Support Corp., both of which enabled them to survive and expand their efforts.
In 2011, its first large-scale commercial development, the North Point Town Center — a $4 million, 10,600 square-foot commercial space — opened to much fanfare. Today the building houses NJCDC and numerous other businesses. The second phase is currently under construction.
Where previously they only built and remodeled freestanding homes, now NJCDC built an 80-unit senior living facility and renovated a 50-unit apartment complex.
It also continued building and remodeling homes, 100 it sold and another 50 that are rentals. Driving around its neighborhood you'll see block after block of well-maintained houses in a rainbow of colors.
It has also greatly diversified their programming. NJCDC and its partners offer classes in financial literacy, health and wellness, job training, networking opportunities, legal referral services and more. NJCDC collects and distributes school supplies and works with neighborhood associations on beautification initiatives.
Some things change
Looking to capitalize on its assets, both historic and present-day, NJCDC helped rename the area the District of Soul. Tutwiler talks about the importance of changing perceptions so that residents and nonresidents associate the neighborhood with more than just crime and blight, such as the fact that Hank Aaron played baseball here, or that there are immensely talented musicians and artists who live here today, as well as some of the best food in the city.
"We think it's critical that the people who live here both love and respect the grounds they happen to grace every day," Tutwiler said.
Some endeavors have proved more challenging than others. Nine years ago, NJCDC started trying to bring a grocery store to the lot it owns across the street from the North Point development. The neighborhood is a food desert; next to violent crime, lack of access to fresh foods is one of the residents' biggest complaints. Today it's still working on getting that grocery store. Tutwiler concedes it's been his white whale.
NJCDC has its critics. Some worry that its ultimate goal will cause gentrification that prices residents out of the neighborhood.
Then there's the fact that, for all NJCDC's endeavors, poverty and crime, much of it violent, plagues the neighborhood.
On Jan. 7, politicians from across the city assembled here for a press conference. A traffic stop had turned into an officer-involved shooting that left a 17-year-old dead; a gun was found in the car.
"It's a war out here," said Councilwoman Ju'Coby Pittman, who represents the district. "We need an implementation plan that's now, that's got some teeth in it."
There is an ever-present need for greater opportunity, she said. 
These are the same things people have been hearing and saying for years. Tutwiler acknowledges that it will take years to change. Crime and poverty didn't happen in Northwest Jacksonville overnight; it took decades. Tutwiler looks at the solution to these issues in a similar light. It will take decades to achieve success.
"Nineteen years of learning along the way, we've had to come to certain terms," he said. "The first one is the reality is it's a work in progress, it's always evolving."
As another example of its evolution, in its more recent history, NJCDC has taken on business incubation. Tutwiler says they've approached people selling clothes or shoes out of the trunk of a car and later helped them open their own storefront.
"It was important for us to take that on as part of our programming, to take them where they were," he said.
Gary Ervin says that Tutwiler has already started encouraging the Bridges to the Cure staff, many of whom, if not all, have criminal records, to open businesses in the next phase of NJCDC's commercial development.
"I'm thinking about opening a restaurant," said Ervin, who loves to cook.
NJCDC began with the mission of revitalizing the community through residential real estate development. Its goal remains the same; it's the means that have changed.
"You're gonna build a house on one street, that's awesome …" Tutwiler said. "If you're going to change the entire neighborhood, that's a different task."
This is part of Youth Today's project on targeting gun violence. Support is provided by The Kendeda Fund. Youth Today is solely responsible for the content and maintains editorial independence.
Latest posts by Guest Columnist
(see all)