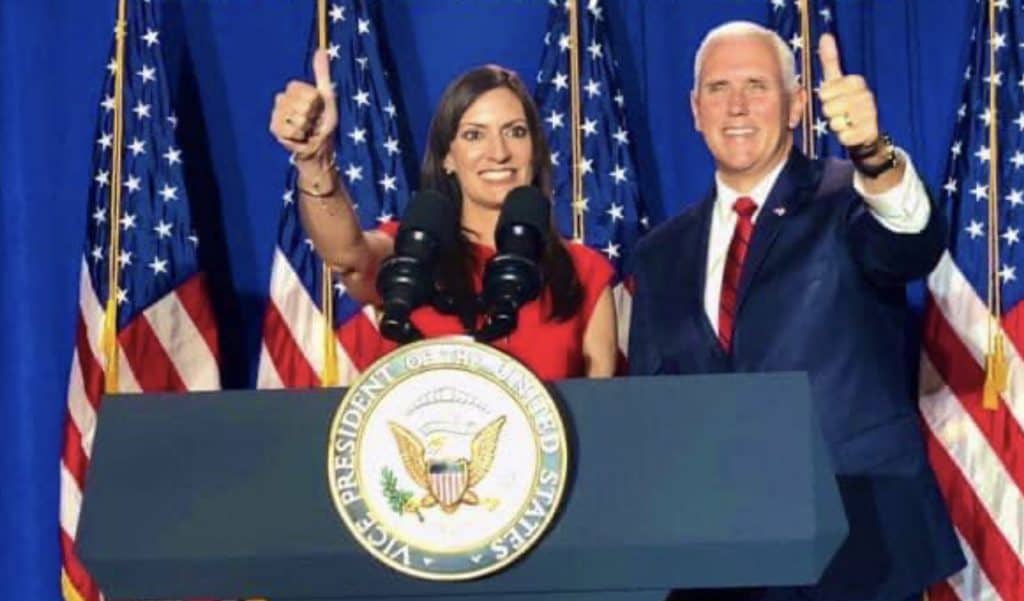 Florida's lieutenant governorship has often been a ticket to the political wilderness but Lt. Gov. Jeanette Nuñez hopes to break that trend.
Nuñez will be one of the speakers on Tuesday at the Republican National Convention, a major change from 2016 when she ripped him on Twitter.
"Wake up Florida voters, Trump is the biggest con-man there is," she posted on Twitter hitting with "#nosubstance," "#anti-Israel," "#supports KKK" and "#neverTrump."
Nuñez backed U.S. Sen. Marco Rubio, R-Fla., for president in 2016 though her opposition to Trump did not impact Gov. Ron DeSantis selecting her to serve as his running mate. She also fell in line behind Trump. Back in June 2019, Nuñez helped launch Latinos for Trump and she doubled down on her support of the president back in August when she took part in a roundtable focused on small business as part of Trump team's "Open for Business" tour which has more than 30 events in 17 states.
"Across our great state, I continually hear real-life success stories thanks to the bold economic policies President Trump's administration has ushered in," Nuñez said last summer when defending the president's record. "Thanks to lower taxes, higher worker wages and cutting government red-tape, Florida is growing exponentially and that message of prosperity will resonate come 2020!"
Nuñez also penned a piece which ran in the Miami Herald a year ago, insisting Democrats can't count on the Latino vote next year.
"Democrats have boxed in voters, specifically Hispanic voters, into a one-size-fits all approach, particularly on the immigration front. The contrived labels of intolerance, white supremacy and racism are buzzwords used by liberals to circumvent facts and demonize those who dare to disagree on immigration policy," Nuñez wrote. "As a Cuban-American woman, daughter of immigrant parents, and the first Latina elected lieutenant governor of Florida, I've had my share of criticism and scrutiny for taking a stance on illegal immigration," she added. "My motives, my faith and even my Hispanic heritage have been disgracefully called into question by some who seek to tarnish my name (tilde included) and my record of service on behalf of the Hispanic community, to satisfy their political agenda.
"As a matter of fact, our friends on the left so quickly have forgotten how prominent Democrats like Joe Biden, Hillary Clinton, Chuck Schumer and Barack Obama were 'all for' border security. In fact, during the Obama administration, more than 5 million immigrants were deported and the infamous chain-link cages were installed in immigrant-detention facilities to combat the spike in unaccompanied children fleeing violence in Central American countries," Nuñez continued. "And although this selective outrage from the left has forced immigration conversations to morph into robotic hate-Trump talking points, the truth is, the absence of congressional action on immigration is proof that Democrats are void of any substantive solutions to aid this crisis."
Nuñez also praised Trump's record on immigration.
"Under President Trump, stemming the flow of illegal immigration has been a priority, whether it is through expanding border-wall funding, meaningful negotiations with countries such as Mexico and Guatemala or addressing the 'public-charge' rule loopholes in the asylum process. Trump and Republicans are seeking to ensure that we address the ongoing security and humanitarian crisis on the border, while still enhancing and enforcing the integrity of the immigration system," Nuñez wrote. "For far too long, Democrats have been branding Hispanic Republicans and conservatives as the enemy of the Latino way of life. However, it is these very individuals who have fought tirelessly against the ills of socialism and oppression that Guatemalans, Cubans, Venezuelans, Nicaraguans, Colombians and others look to leave behind. They often flee a country in shambles, with the knowledge that they were migrating to a nation of laws, appreciative of Lady Liberty and all the opportunities she bestows."
Earlier this month, Nuñez hit Central Florida as part of a bus tour in support of the president.
"It shows this president's commitment to reaching to every corner of this state, and conversing with voters, and those voters who don't perhaps agree with him on everything, and those voters that are undecided," she told Florida Daily about the bus tour, adding that taking the stump for him was a "great honor."
Nuñez has a chance to do that on the national stage on Tuesday as she takes part in the GOP. While some of the biggest names from the Florida GOP are noticeably absent from the convention–namely DeSantis, Rubio and U.S. Sen. Rick Scott, R-Fla.–Nuñez and former Florida Attorney General Pam Bondi are scheduled to appear on Tuesday. U.S. Rep. Matt Gaetz, R-Fla., a top Trump ally, spoke on Monday.
Reach Kevin Derby at kevin.derby@floridadaily.com.