 Trying to catch former U.S. Rep. Gwen Graham, D-Fla., and former Miami Beach Mayor Philip Levine in next week's primary, gubernatorial hopeful Jeff Greene is opening up his wallet to help Democrats across the Sunshine State.
The South Florida billionaire announced on Monday night that he was going to put $5 million into his Florida Defense Fund PAC to help Democrats flip the state Senate.
Greene said he was the only Democrat in the race who can match the GOP when it comes to financial resources.
"My opponents and I all have great ideas – but Democrats have had great ideas for the past 20 years, and we're all tired of losing," Greene said on Monday night. "I'm the only person in this race able to go toe-to-toe and dollar-for-dollar with the Republicans to win in November. And I'm committed to taking the Senate with me. With five seats won we've got a Democratic-majority Senate."
Greene pointed to seven Democrats trying to win state Senate seats and his support of two state Cabinet hopefuls–state Rep. Sean Shaw who is running for attorney general and Nikki Fried who is running for agriculture commissioner–and said he is ready to help the entire ticket.
"This is my vision for Florida: I will help Democrats take back the Senate, make a dent in the House, and defend Bill Nelson's U.S. Senate seat against Rick Scott," Greene said. "Just imagine how effective we can be together."
With the primary looming next Tuesday, Greene needs to reclaim some lost momentum. Getting in the race at the last moment, Greene's investments in TV ads paid off to some extent as he narrowed in on Graham and Levine. But recent polls show him starting to fade as Tallahassee Mayor Andrew Gillum is starting to rise.
Kevin Derby can be reached at Kevin.Derby@floridadaily.com.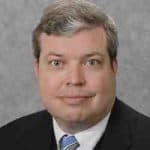 Latest posts by Kevin Derby
(see all)