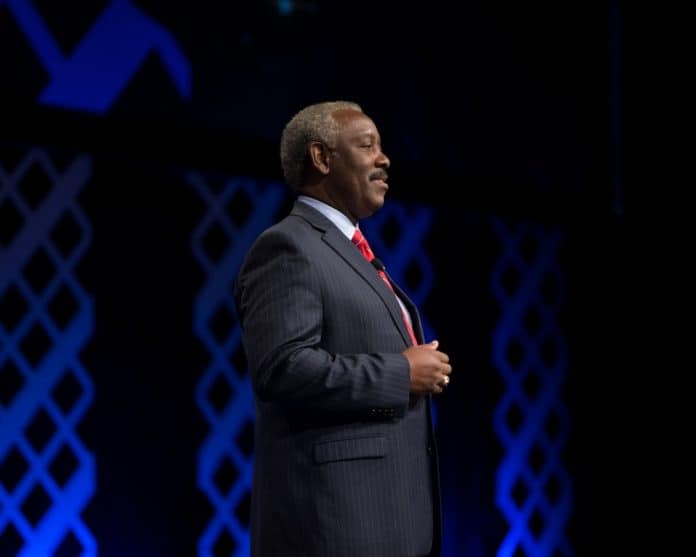 New Orange County Mayor Jerry Demings is wasting no time making his mark on the office as he has proposed a tax increase.
The former sheriff announced he will send a one percent sales tax increase–an additional penny of every dollar spent–referendum to Orange County voters. The additional revenue will be used for transportation needs. A single penny sales tax hike in Orange County could potentially raise as much as $635 million a year for leaders to spend on transportation. By comparison, Volusia County can raise about $90 million a year by raising the sales tax 1 percent. Osceola County estimates a penny sales tax increase would bring in about $65 million a year. Both of those counties tried to increase sales taxes in referendums held in May and the voters overwhelmingly rejected the proposals.
Demings believes Orange County will be different.
"It's a perfect time because of what we already have going forward. What we would like to do is compliment the work that the Florida Department of Transportation with our roadway expansions," he said.
I-4 is currently in the midst of a $2 billion renovation by the Florida Department of Transportation (FDOT) with more work planned for Orange and Seminole Counties once the current effort is finished. The Wekiva Parkway will finish the beltway around Orlando in 2021 or 2022. The Beachline, 417 and Turnpike are all currently getting upgrades as well.
Demings believes the one-cent sales tax increase would position Orange County far into the future. According to some estimates, as many as 1,000 people a week are moving to Orange County, putting a lot of pressure on the transportation system.
As for how the new revenue would be spent, Demings has already weighed in on it.
"It is our goal to have numerous meetings with citizens to better define what it is our citizens want the dollars, the revenues that will be raised from this sales tax to be spent on," Demings said after his State of the County speech.
The vote will be in November 2020 if commissioners agree to put it on the ballot. Given that all of the county commissioners stood behind the mayor at his press conference on the topic, getting it to the ballot seems to be a shoo-in. Now Demings will have to convince 50 percent plus one of Orange County voters on his vision despite it not being complete yet.
"We are going to use a grassroots approach," Demings said. "We are going to meet with our county commissioners. We are going to go out in the communities and work with other stakeholders, other groups in our community to make sure that everyone understands how they will benefit."
If the proposed tax hike passes, the beleaguered Lynx bus system would finally get a dedicated funding source and Sunrail would be covered if the state turns over operations to the four counties where the commuter train runs.
Demings said he is also committed to road building, repairing and widening. He said once a spending plan for the money is determined, he wants everyone to benefit no matter where they live in Orange County.
The new mayor has some idea of the challenges ahead. Demings was Orange County's public safety director the last time a transportation tax hike was tried in the county. Mobility 2020 was shot down by voters in 2004 by a large margin.
"There are initiatives that failed in the past, but timing is everything," Demings told Florida Daily. "We are at a critical stage now in the growth of our community where people feel the pain associated with the transportation challenges that we have."
While details of how long the tax would last and how it would be spent still have to be worked out, Demings claims he has the support of Orlando Mayor Buddy Dyer and will work to get the rest of the mayors in his county on board. Demings says he has studied why so many referendums have failed in the region and will learn from them.
Reach Mike Synan at Mike.Synan@floridadaily.com.
Latest posts by MIKE SYNAN
(see all)