 U.S. Rep. Jim Banks, R-Ind., is taking over the leadership of the Guardian Fund PAC which had been led by former U.S. Rep. Allen West, R-Fla.
Banks, a veteran who served in Afghanistan, came out swinging at the Democrats this week as he took over the PAC.
"In Congress, I've worked tirelessly to rebuild our military, secure better care for our veterans, and restore America to greatness," Banks insisted.  "But today, Congress sits in the hands of self-declared socialists and all that I've risked my life to defend is at risk.
"I'm a battle-tested veteran who served in Afghanistan. I fought proudly to defend our families, our values and America," Banks added. "Action is needed – and like Guardian Fund Founder LTC Allen West – I've always tried to lead by example. That's why today, I'm honored to announce that he's asked me to serve as the next chairman of the Guardian Fund. It's my intention to carry the torch forward as he would – fighting to elect strong constitutional conservatives to serve in Washington and defeat the liberals who are plotting to destroy America."
Banks insisted "our creed is simple" as he began his new duties. "We fight for liberty, freedom, individual sovereignty, free market/free enterprise economic policy, and peace through strength. constitutional conservatism," he noted. "It's our mission to fight and defend these honored principles."
The Guardian Fund PAC saw some success in Florida last year as Republican U.S. Reps. Neal Dunn and Brian Mast, both veterans, kept their seats while Michael Waltz and Greg Steube kept open seats in the GOP column. However, the PAC also backed U.S. Rep. Carlos Curbelo, R-Fla., and Maria Elvira Salazar whom both went down to defeat as the Democrats flipped two seats in South Florida.
After more than two decades of decorated service in the Army, West ran for Congress in 2008, losing to U.S. Rep. Ron Klein, D-Fla. In 2010, West turned the tables and beat Klein in a rematch. While he became a favorite of conservatives at the national level, West was defeated in 2012 by Democrat Patrick Murphy. After losing to Murphy, West has garnered some speculation as a possible U.S. Senate candidate but he never launched a campaign.
Instead, West went to Texas to lead the National Center for Policy Analysis (NCPA), a conservative think tank, for two and a half years before it shut down in the summer of 2017.
Following his decision to take over at NCPA, West left the Guardian Fund PAC, letting U.S. Rep. Barry Loudermilk, R-Ga., lead it. West resumed his leadership role which he is now relinquishing.
Kevin Derby can be reached at Kevin.Derby@floridadaily.com.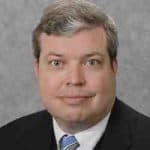 Latest posts by Kevin Derby
(see all)