This week, Florida Chief Financial Officer (CFO) Jimmy Patronis issued a letter to U.S. Attorney General Merrick Garland following recent reports that the Biden administration is proposing to pay $450,000 to each illegal immigrant that was separated from family members at the border under the Trump administration.
This proposal could equate to a payment of $1 million per family. President Joe Biden has pushed back against the reports, saying they are not true.
In the letter, the CFO called on the federal government to return Florida taxpayer money as to not subsidize or incentivize illegal immigration.
The letter is below.
Dear Attorney General Garland:
It has recently come to my attention that the Biden Administration is proposing to pay $450,000 to each illegal immigrant that was separated from family members at the border under the Trump Administration. This amount of money, divvied out to non-Americans, could equate to $1 million per family, with a total impact to American taxpayers of $1 billion. As Florida's Chief Financial Officer and State Fire Marshal, I am disgusted with this proposal. Governor DeSantis said recently that this will be a slap in the face to every hard-working American that played by the rules – and I cannot agree with him more.
Americans are compassionate, but we should not pay cash to people who illegally came to this country. A country without a border isn't a country. Now federal leaders are proposing to take away tax dollars from legal citizens and give it to illegal immigrants who broke the law. With over 3,000 migrants currently headed to America's southern border, now is not the time to telegraph to the world that if you make it to America you may get a check from Uncle Sam for $1 million. It's simply not worth a good editorial from the Washington Post, or a nice tweet from the New York Times, if your actions ultimately get more people killed.
This proposal is incomprehensible. Especially as we're maxing out coverage for Gold Star families at $400,000, yet federal officials think illegal immigrants should get $1 million. You're proposing to spend more money on illegal immigrants than on dead, American soldiers' families for goodness sakes. It's also more money than what was paid out for many 9/11 victims' families, as well as the first responders that worked the disaster. The whole thing is disgusting. Whichever bureaucrat came up with this should be fired and whatever dollars ultimately go to illegal families should come out of their pay and benefits package.
Ultimately, I do not believe a single dollar from Florida taxpayers should go to fund what I consider one of the most crazy proposals of all time. It's crazy because you're saying non-Americans are more important than the citizens you took an oath to support – and you're also incentivizing bad behavior by immigrants that want to illegally make the trek to America. Too many of these immigrants will ultimately die, or will have what little money they have, stolen from them.
From where I am sitting, the State of Florida contributed more than $209 billion in 2020, in federal income taxes to the nation's budget. These are dollars that legal citizens in Florida worked hard for.
So, if it is the Department of Justice's intent to use dollars from Florida to both subsidize and incentivize illegal immigration to the United States, then I am demanding the federal government return those dollars back to Floridians. Yes, I am serious, I want the money back. Especially as Florida has paid the 4th highest amount in federal taxes. As you may know Florida pays 6% of federal income taxes, so if you choose to ignore this communication, then we will examine methods for withholding the roughly $60 million that is passed back to the federal government from Florida through the normal course of business. That would constitute Florida's percentage of the $1 billion Americans are expected to pay.
If it comes to it, we can discuss the issue in court, and I'll be sure to invite Gold Star family members and 9/11 families to those court proceedings, so federal officials will be forced to look these men and women in the eyes and tell them that Joe Biden values illegal immigrants more than Americans who died for our country.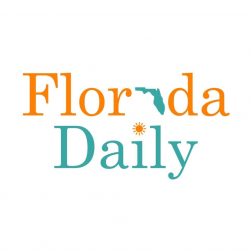 Latest posts by Florida Daily
(see all)