On Tuesday, Florida Chief Financial Officer (CFO) Jimmy Patronis addressed the Florida Sheriffs Association 2021 Winter Conference in Ponte Vedra.
At the event, Patronis announced that during the 2021 Legislative Session, he will support Gov. Ron DeSantis' "Combatting Violence, Disorder Looting and Law Enforcement Protection Act" and will oppose any cuts to the state budget that impacts partnerships with local law enforcement. The CFO also said he will work to oppose the anti-law enforcement culture that is being pushed throughout the nation and by certain elements of the Florida Legislature.
The CFO's remarks as prepared for delivery are below:
It is a pleasure to be here this morning at the Sheriffs 2021 Winter Conference.
Thank you Sheriff Bobby Schultz for your service to the people of Florida and Gilchrist County.
Also, thank you to Chair Sheriff Bill Prummell of Charlotte County for presiding over this important association.
Joining me this morning is Col. Julie Jones who now serves as our Deputy Chief Financial Officer over our divisions of Investigative and Forensic Services, Public Assistance Fraud and Workers' Compensation.
I know she is a familiar face to many of you.
I have asked Julie to work with our sheriffs to go after fraudsters that steal from Floridians.
These crimes affect all of us by increasing insurance rates.
I believe in the power of partnerships and with your assistance I know we can bring fraudsters to justice and crack down the kind of white-color fraud which plagues too many Florida communities.
This morning, I am proud to be among so many brave men and women as your Chief Financial Officer.
However, I am also here as a husband, a father of two, and a former small business owner.
As we're gearing up for the next legislative session, I have been meeting with small businesses around the state on how we can get back on our feet following COVID-19.
These businesses are trying everything possible to keep their heads above water. Many are operating off their credit cards; taking out loan after loan – just trying to stay afloat.
For our small businesses, the Coronavirus has been a real gut-punch.
Some have lost everything they have. Many others are still struggling to hang on, but I know they're happy to be in Florida where at least they got a shot at recovering.
For anyone paying attention to national news, I know Florida's small business owners are thinking "thank God." It would be so much worse right now to be in the big government lock down states of California and New York.
And, on top of the lock downs and business closures – we have the security risks posed by constant riots. I cannot imagine the kind of harm riots have done to small businesses in cities like Portland and Minneapolis; not to mention how they have driven a decline in public safety.
To watch TV commentators call some of these protests "mostly peaceful" while buildings were on fire behind them is something I never expected to see in America.
You – our law enforcement – know what it takes to protect communities. But public safety has been replaced by politics. It breaks my heart.
I cannot stand the hypocrisy…
In Minneapolis, while the City Commission was voting to defund police, three commissioners were getting their own personal, private security on the taxpayers' dime.
In Los Angeles, the City Council President was using police as body guards while voting to cut policing budgets by $150 million. In fact, sometimes she had two police guards.
In Portland, the Mayor pledged to divert $12 million away from police and then announced he was going to move out of his $840,000 condo because of all the violence.
I'm frankly over the virtue signaling of spineless politicians who publicly rail against law enforcement, and then ask for help when the television cameras are gone.
Public safety shouldn't be political.
We should pass a law that makes it illegal for any city with a rising violent crime rate to defund anything from their law enforcement!
What makes me angry is that these politics of "defund the police" hurt our poor communities the most. We already know that the crime rate is higher in places with less economic opportunities. Cutting law enforcement hurts our poor communities the most, which is often where we have the most diversity in population.
Frankly, some of these leaders have no business being in elected office.
In fact, there is a common connection between a city's high crime rate and corruption in elected officials. Could this new attack against police be a smoke screen for incompetence or corruption. Absolutely!
The good news is, the Seattle Mayor who allowed the police-free "Autonomous Zone" to fester in her city isn't running for reelection anymore.
People are starting to fight back…but the battle is far from over…
In Florida, we've benefitted from leaders who support law enforcement.
According to FDLE, Florida's crime rate has been dropping year over year, consecutively for 49 years.
That's because we've let law enforcement do their jobs.
Now is the time to send a message to the rest of the nation that unlike some of these other places, we will not allow Florida to fall into chaos.
Now is the time to double down on our support for law enforcement.
As you might be aware, Florida is facing a $3 billion shortfall over the next two years.
President Simpson and Speaker Sprowls have signaled they're not interested in raising taxes, and I think that's the right decision. They are great leaders.
Like any small business, state government must streamline and right-size services to meet its obligations to the taxpayers, but we shouldn't do it on the backs of law enforcement.
That's why next session I vow to fight against anything that would defund or hurt police. I may not have a vote in the legislature anymore, but I have a microphone like this one and I plan to use it.
Moreover, as a member of the Florida Cabinet, I will not support any cuts to FDLE, or Highway and Safety's, budget that hurts our partnerships with sheriffs or other police forces in our communities.
Second, we've got to support Governor DeSantis by ensuring his "Combatting Violence, Disorder Looting and Law Enforcement Protection Act" is passed by the Florida Legislature.
In the wake of the summer protests, we witnessed two very different things:
On one hand, there were civil protests by well-intentioned people who wanted a dialogue on how we can do better by our neighbors.
On the other hand, there were criminals who sought to take advantage of the situation through looting, destruction, arson, and in some cases, murder.
Governor DeSantis has proposed common sense legislation that would ensure the kind of destruction that happened in Minneapolis, Chicago, and Portland doesn't happen in Florida.
I don't think we can ever forget about Captain David Dorn whose death was streamed live on social media.
Captain Dorn was said to have been blessed, "with the gift of gab."
He served his community for forty-four years.
When Captain Dorn was murdered he left behind five children, 12 siblings and ten grandkids.
We cannot let protests devolve into murder.
Further, this law should be enforced regardless of violent protesters' ideology.
Violence on any side, for any purpose, is wrong.
If law enforcement was empowered to do their jobs before the chaos then David Dorn may still be with us today.
I'm concerned that certain anti-police elements are beginning to take roots in the political institutions of our state.
For example, last summer Representative Anna Eskamani proposed "Divest[ing] in Law Enforcement" and argued that funding police "threatens communities"!
Moreover, when Orange County was considering increasing its budget $15 million for the Sheriff's office, Eskamani railed against the proposal.
That's you – the people in this room. You are now not just a target for criminals but also elected officials. They are coming for your jobs and in some instances, your badge.
It's time we fight back. Enough is enough. In Tallahassee there are even whispers that Eskamani has her eyes on the Governor's Office.
We cannot let that happen!
We have a great Governor that's fighting alongside you in the fight of good vs. evil every day … He cares about public safety more than politics.
Law enforcement makes the world a better and safer place. That's a fact.
I'm tired of hearing from folks that don't live in the real world about the "bad apples" in law enforcement. What about the "bad apples" in the general public who are now in jail thanks to law enforcement? The rapist and the murderers? Remember them? These are the violent crime offenders. I am glad they are in jail.
I have two boys – Johnny and Theo – and they love Star Wars.
When I was growing up, we played cops and robbers, but today's generation plays Jedi and Sith.
These stories all boil down to good triumphing over evil – and these are great stories because they're real.
Good vs. Evil is playing out every day, all around us.
I know good people sometimes make bad decisions, but I also know that our jails and prisons are loaded with evil.
Our prisons are loaded with men and women who enjoy hurting and stealing from people, and are indifferent to the suffering they create in the world.
You get that. Law enforcement gets that, but too many politicians do not.
Our sheriffs and deputies respond to the calls, they walk the streets, and they comfort victims who lost their loved ones over drugs or violence.
You are on the front lines.
You still answer the call 24-7, 365 days a year. During birthdays and anniversaries you're responding to the calls.
2020 brought a lot of bad things to a lot of good people, but one of the worst must be the anti-law enforcement culture that's making its way into mainstream America now…
Elected leaders must have the courage to back-the-badge.
As long as I've got a voice in Tallahassee, we won't allow anti-law-enforcement culture to spread without a fight.
You fight for us; it's time we fight for you.
Thank You! God bless you all.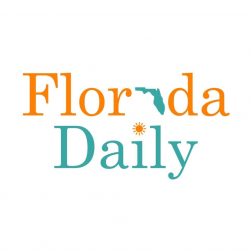 Latest posts by Florida Daily
(see all)