The U.S. House Ethics Committee announced it will continue investigating U.S. Rep. John Rutherford, R-Fla., who sits on the committee.
The leaders of the committee–U.S. Rep. Ted Deutch, D-Fla., who chairs it, and U.S. Rep. Jackie Walorski, R-Ind., who leads Republicans on it–released a joint statement on the matter on Tuesday.
"On February 28, 2022, the Committee received a referral from the Office of Congressional Ethics (OCE) regarding Representative John Rutherford. Pursuant to House Rule XI, clause 3(b)(8)(A), and Committee Rules 17A(b)(1)(A) and 17A(c)(1), the Chairman and Ranking Member jointly decided on April 14, 2022, to extend the Committee's review of the matter. In order to gather additional information necessary to complete its review, the Committee will review the matter pursuant to Committee Rule 18(a). The Committee notes that the mere fact of conducting further review of a referral, and any mandatory disclosure of such further review, does not itself indicate that any violation has occurred, or reflect any judgment on behalf of the Committee," they said.
"In order to comply with Committee Rule 7 regarding confidentiality, out of fairness to all respondents, and to assure the integrity of its work, the Committee will refrain from making further public statements on this matter pending completion of its initial review," they added. "Pursuant to Committee Rule 17A, the Committee hereby publishes OCE's Report and Findings relating to allegations against Representative Rutherford and Representative Rutherford's submission to the Committee."
Politico reported this week that Rutherford and two other Republican congressmen–U.S. Reps. Pat Fallon of Texas and Chris Jacobs of New York — "face allegations of stock trading law violations" since "concerns were raised about the timeliness of their reporting of trades and other securities transactions." Politico also reported that the Office of Congressional Ethics (OCE ) "said Rutherford had disclosed 157 late transactions valued between $652,000 and $3.5 million between his swearing-in in January 2017 and December 2021."
While the congressman's office did not respond to Politico, that outfit reported that his attorney Kate Belinski "said in a letter included alongside the OCE report that the transaction issues were an 'entirely inadvertent oversight by the congressman and his chief of staff, and all transactions have now been fully and accurately reported.'"
The Ethics Committee announced the start of the investigation of Rutherford back in April.
Business Insider reported in March that Rutherford bought stock–between $1,000 to $15,000– in a major defense contractor on the day Russia invaded Ukraine.
Rutherford noted that the committee "is responsible for upholding the ethics rules of the House, investigating potential violations, and ensuring proper disclosure and review of financial statements by members of Congress and their staff."
"The Ethics Committee plays a valuable role in safeguarding trust and transparency in our government," said Rutherford. "It is an honor to be chosen to serve on this respected committee. I look forward to serving alongside my colleagues on this uniquely bipartisan committee and will do so with the fairness and impartiality our nation expects."
Rutherford will serve under a fellow member of the Florida delegation as U.S. Rep. Ted Deutch, D-Fla., chairs the committee.
A former law enforcement official, Rutherford served three terms as Duval County sheriff. In 2016, he was first elected to Congress. Rutherford represents all of Nassau County and parts of Duval and St. Johns Counties though his district could be impacted in redistricting.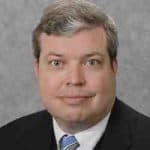 Latest posts by Kevin Derby
(see all)