After claiming a seat on the powerful U.S. House Appropriations Committee last month, freshman U.S. Rep. John Rutherford, R-Fla., has been assigned to a subcommittee that should boost the First Coast's military community.
On Monday, U.S. House Appropriations Chairman Rodney Frelinghuysen, R-NJ,  announced that Rutherford will serve on the U.S. House Military Construction and Veterans Affairs Appropriations Subcommittee.
"Representative Rutherford is a welcome new asset to the Military Construction and Veterans Affairs Appropriations Subcommittee," Frelinghuysen said on Monday. "His hard work and knowledge of issues that affect our service men and women both in active duty and after they leave will be extremely helpful in the development of legislation that funds these essential military and veterans programs and benefits."
Noting that he was "honored" to join the subcommittee, Rutherford insisted his new assignment will help the First Coast which is the home to Mayport and Naval Air Station Jacksonville.
"In this role, I will have a stronger voice in fighting for the First Coast's military interests and increasing resources for our vets and their families," Rutherford posted on Twitter.
Now winding down his first term, during his tenure in Congress, the First Coast Republican has focused on national security issues. Before being named to the Appropriations Committee, Rutherford was on the  House Homeland Security Committee. the House Judiciary Committee and the House Veterans Affairs Committee. At the start of last year, U.S. Rep. Michael McCaul, R-Texas, who leads the Homeland Security Committee, selected  Rutherford to serve in  Task Force on Denying Terrorists Entry into the United States. Before being elected to Congress, Rutherford served in law enforcement including twelve years as Duval County sheriff.
Rutherford follows in the footsteps of First Coast U.S. Reps. Charlie Bennett, D-Fla., Tillie Fowler, R-Fla., and Ander Crenshaw, R-Fla., all of whom focused on protecting military bases in Northeast Florida during their time on Capitol Hill.
Kevin Derby can be reached at Kevin.Derby@floridadaily.com.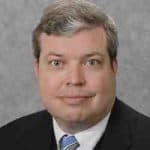 Latest posts by Kevin Derby
(see all)