At the end of last week, U.S. Rep. John Rutherford, R-Fla., teamed up with U.S. Rep. Brendan Boyle, D-Penn., to offer a resolution designating November as Lung Cancer Awareness Month.
Boyle and Rutherford are the co-chairs of the Congressional Lung Cancer Caucus.
"While Lung Cancer Awareness Month has traditionally taken place in November, this legislation in Congress would formally recognize its observance during that month," Rutherford's office noted.
"As co-chair of the Lung Cancer Caucus and a member of the House Appropriations Committee, I am committed to supporting investments in lung cancer research and development," said Rutherford on Friday. "While we have made significant progress, lung cancer continues to account for more deaths than colon cancer, breast cancer, and prostate cancer combined. This resolution designating November as Lung Cancer Awareness Month seeks to increase detection and diagnosis of lung cancer by promoting the awareness, availability, and importance of early screening. Thank you to Congressman Boyle for partnering with me to lead this important effort."
"Lung cancer continues to be one of the leading causes of death among Americans, especially for young women and veterans," said Boyle. "Recognizing November as Lung Cancer Awareness month is a step toward raising greater awareness and increasing the odds for early detection, which is known to increase the survival rate. As co-chair of the Lung Cancer Caucus, I'll continue fighting for the hundreds of thousands of Americans impacted by lung cancer by combatting the stigma and increasing federal funds for better research and treatment."
"Lung cancer is the second most common cancer and is a leading cause of death in the United States. Each year more people die of lung cancer than colon, breast, and prostate cancer combined. The bipartisan Congressional Lung Cancer Caucus helps educate and inform Members of Congress on issues specifically related to eliminating the stigma, reducing mortality, improving survivorship, furthering research, and ensuring equitable access to preventive screening, treatments, diagnostics and testing of lung cancer," Rutherford's office noted.
The resolution was sent to the U.S. House Energy and Commerce Committee on Friday.
With Election Day in two weeks, Rutherford is the favorite in his solidly Republican district in Northeast Florida over Democratic nominee Donna Deegan, a longtime news anchor on the First Coast who has been very prominent with nonprofits in the fight against breast cancer. Gary Koniz is running as a write-in candidate.
Reach Kevin Derby at kevin.derby@floridadaily.com.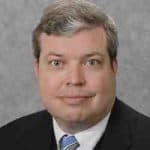 Latest posts by Kevin Derby
(see all)