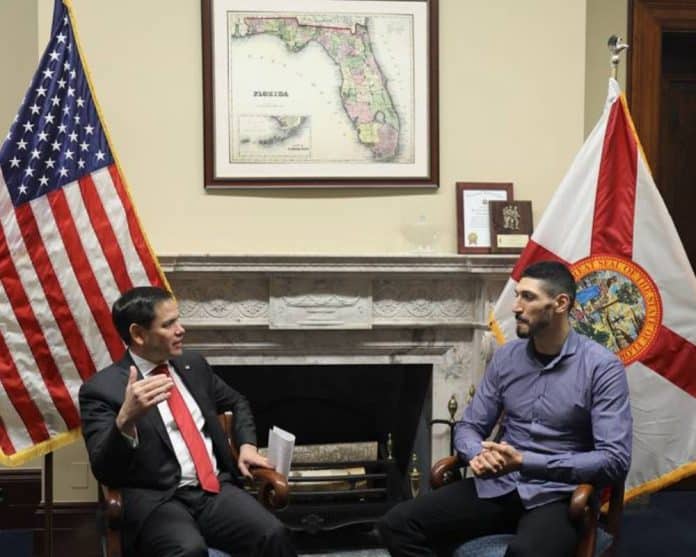 U.S. Sen. Marco Rubio, R-Fla., who sits on the U.S. Senate Foreign Relations Committee, is calling out the leadership of Turkish President Recep Erdogan after meeting with NBA star Enes Kanter, a critic of the Turkish president.
The Knicks center was scheduled to be in London for a game against the Washington Wizards but refused to make the trip for fear he could be attacked or poisoned by Turkish spies while in Great Britain.
Rubio insisted Kanter was not being paranoid.
"It is a fear that is well founded," Rubio said. "He just informed me that last night they placed a red notice on Interpol, which calls into question whether he could travel to Canada. And I hope U.S. authorities will step forward and ensure that he is given the ability to travel freely to all countries around the world we are allies with because what he is accused of is ridiculous."
Kanter has spoken out against the hard line Turkish president in the past, making him a persona non grata in his country.
Rubio wants more freedom for the Turkish people and does not believe Erdogan is acting like the leader of a free nation. The Florida Republican railed against the way Kanter has been treated.
"When he spoke out against Erdogan government, he immediately began to receive threats," Rubio said about Kanter. "His travel documents, his passports were canceled. He's been threatened, actually charged, with terrorism, which they define as speaking out against the government."
Rubio admits very little can be done about this problem, especially as Turkey remains one of the most important U.S. allies.
"I don't know if there is a legislative remedy for it," Rubio said. "We pass laws and we find budgets here but I certainly think the platform of Congress is one that the more members of the House and Senate speak out, the more attention is paid, the more safe he will be and the more we speak out about his family in Turkey the safer they're going to be, we hope. I know we can do that. As far as…anything we can do with other nations and use our relationships or whether there is a legislative fix, I don't know the answer…but it is certainly something we would be willing to explore."
In their meeting, Kanter called Rubio to continue to put pressure on the Erdogan government to drop charges against his father and not take him to trial. Over the summer, the Turkish government indicted Kanter's father as being part of a terrorist group.
"I'm using this big platform to try to be a voice for all those innocent people who don't have a voice. So I think the most important thing is to understand that people over there are my family, but I will continue to keep talking about these issues because I want people to really know what is going on in Turkey," Kanter said.
Rubio joked he was trying to work out a trade for Kanter, chiding several members of his staff as being Knick fans.
In the meantime, Turkey doubled down its efforts against Kanter, with news breaking on Wednesday that the government was seeking a warrant against him, accusing him of being a part of a terrorist organization.
Reach Mike Synan at Mike.Synan@floridadaily.com.
Latest posts by MIKE SYNAN
(see all)