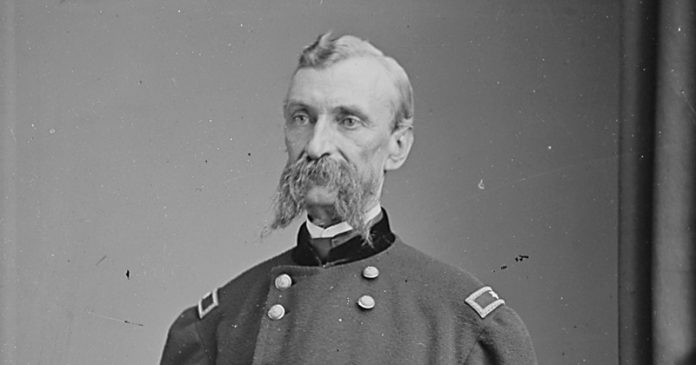 By 1864, the Union ramped up its war effort against the Confederacy, growing far more aggressive in its handling of civilians and their property, including enslaved people. There had been a few previous efforts in establishing a harder war policy, including Maj. Gen. John Pope's brief and stormy tenure in charge of the Army of Virginia during the summer of 1862, but by 1864, after three years of war, the North expanded these policies. The most famous example of this came at the end of the year when Maj. Gen. William T. Sherman followed through on his promise "to make Georgia howl" in the March to the Sea. But there were other commanders enacting similar policies including Maj. Gen David Hunter's campaign in the Shenandoah Valley and Brig. Gen Alexander Asboth's efforts in West Florida.
Born in Hungary in 1811, Alexander Asboth was an engineer and soldier who, after having his heart broken when the woman he loved married someone else, joined the 1848 uprising against the Hapsburg monarchy. After rising to the rank of lieutenant colonel in the Hungarian forces, Asboth followed his leader Lajos Kossuth into Turkey after the revolution was put down and joined him on his tour of the United States. While Kossuth went back to Europe, Asboth stayed in America, working as an engineer in New York, working with Frederick Law Olmsted to create Central Park and helping lay out what is today the Upper West Side. It's regrettable that Asboth hasn't found a biographer though engineer and independent scholar Stephen Beszedit, who has done much on the role of Hungarians and the Civil War, has done some excellent work on him.
When the Civil War started, Asboth's training as a soldier came in handy. Based in New York, he urged his fellow Hungarian-Americans to enlist for the North.
"Hungary is once more united stronger than ever, and the different nationalities that lent their assistance in 1848 and 1849 to the treacherous Austrian government in its efforts to crush Hungarian Independence, are now firmly identified with the cause of liberty," he wrote in the New York Times on May 3, 1861. "While under such auspices we are looking anxiously to our dear native land, hopefully awaiting the long longed-for moment for a renewed gigantic united outburst in behalf and in vindication of our ancient constitution and independence, we see with deep sorrow the glorious republic of the United States, our adopted country, upon the verge of dissolution, the realization of which would be a triumph for all despots and the doom of self-government."
Asboth served as chief of staff for Gen. John Fremont when that former presidential candidate and renowned explorer commanded Union forces in Missouri. Fremont barely lasted three months in command as his efforts against slavery went beyond what the Lincoln administration was willing to back in the early stages of the war. Surrounding himself with Asboth and other immigrants didn't help Fremont either. In his memoirs, Pope insisted Fremont's staff full of European exiles was more concerned with pomp and procedure than actual military affairs. Despite that perception, Asboth garnered applause for his efficiency, especially in helping organize and train regiments of volunteers as Fremont gave him command of a division.
After Fremont was relieved from command, Asboth, now a general, remained with the army in Missouri. The famed English writer Anthony Trollope met Asboth in early 1862 and was impressed with the general.
"We dined at the tent of General Asboth, and afterwards rode his horses through the camp back to Rolla," Trollope wrote. "I was greatly taken with this Hungarian gentleman. He was a tall, thin, gaunt man of fifty… who had come from his own country with Kossuth to America. His camp circumstances were not very luxurious, nor was his table very richly spread, but he received us with the ease and courtesy of a gentleman. He showed us his sword, his rifle, his pistols, his chargers, and a daguerreotype of a friend he had loved in his own country. They were all the treasures that he carried with him, over and above a chess-board and a set of chessmen which sorely tempted me to accompany him in his march."
Asboth led his division at the Battle of Pea Ridge in March 1862 where he was wounded in the arm and later served as Union forces in the West converged in Mississippi for the siege of Corinth. During his time in the Western theater, Asboth impressed Sherman who praised the Hungarian immigrant in his memoirs for his courage and who called on Ulysses S. Grant's staff to give Asboth important commands.
"General Asboth was a tall, spare, handsome man, with gray mustache and a fierce look," Sherman wrote in his Memoirs. "He was an educated soldier, of unquestioned courage, but the responsibilities of outpost duty borne rather heavily on him, and he kept all hands in a state of constant worry in anticipation of imaginary attacks."
While he spent much of 1863 in Kentucky and Ohio, Asboth was given command of the Department of West Florida based out of Pensacola. During his tenure in Florida, Asboth focused on bringing formerly enslaved peoples into the Union army and launching raids in the area. Decades after his time in Florida, historians were still noting the locals hated Asboth for being an immigrant and fighting against slavery.
On July 4, 1864, Asboth called for aggressive action in West Florida. He also stressed that the Confederate government had largely left the area undefended.
"Most of the rebel troops in West Florida and Alabama have left to re-enforce Johnston at Atlanta and Polk, Forrest, and Roddey's army, on the Mobile and Ohio Railroad, in Mississippi," Asboth noted. "Refugees and deserters report the balance of rebel troops in my neighborhood distributed as follows: Mobile, militia only enough to do the guard duty; Fort Morgan, 600 men; Camp Withers, two companies cavalry; Camp Andrew, at Bonsecours Bay, four companies infantry, guarding salt-works; Camp Powell, near Perdido River, one company cavalry; at Pollard, five companies infantry and the Fifteenth Confederate Cavalry, Colonel Maury commanding, under marching orders; at Fifteen-Mile Station, on the Pensacola and Pollard Railroad, 500 cavalry and three pieces artillery; between the Escambia and Chattahoochee Rivers, three companies of cavalry; at and around Milton, one-half company at Elba, one-half at Abbeville, one-half at Newton, and one at Marianna."
With few Confederate soldiers in the area, Asboth proposed to launch a raid from St. Andrews Bay in what is now is Bay County with plans to move up through the Panhandle and strike Columbus, Georgia. Asboth planned on destroying supplies, logistics, factories, and communications while liberating Union prisoners
"Considering the comparatively very small number of rebel troops thus scattered in West Florida and Alabama, in twenty counties, comprising more than 20,000 square miles, I beg respectfully to recommend a cavalry raid as far as Columbus, Ga.," he wrote. "Possessing the most minute information, I am confident that 2,000 men, well mounted and armed, would be sufficient to do the work safely and obtain brilliant results of vital importance, facilitating greatly the success of our armies in Virginia and Georgia, and while much reducing the rebel resources in general, forcing, especially, starvation upon Mobile, thus rendering one of the most formidable rebel strongholds comparatively helpless. If enabled by the commanding general to make the raid, I would enter Saint Andrew's Bay on steamers, land near Bethem's Mill, at McCormick's Landing (15 feet depth), and destroy the numerous salt-works, with a daily produce of 500 bushels of salt for the so-called Confederacy; take the Hickory (Orange) Hill road, and, leaving Marianna, Abbeville, and Fort Gaines on the right, enter Newton (a rebel depot for bacon and corn), strike the terminus of the Macon and Georgetown Branch Railroad at Eufaula, destroy the railroad and telegraph line, and leaving Union Spring to the left, cross the railroad at Silver's Station, and destroy the Mobile and Girard Railroad, enter Columbus, Ga., destroy all the Government machine-shops, factories and manufactories, and fifteen warehouses full of cotton; destroy also the Columbus and Macon, Columbus and Opelika, and West point and Montgomery Railroads.
"From Opelika I would continue on the north side of the railroad to Wetumpka, a military prison, with over 3,000 Union prisoners, and, liberating the, march upon Montgomery, the capital of Alabama, and destroying the railroad around the city, with the Government machine-shops and cotton warehouses, proceed on the public road east of the railroad down to Pollard; there also destroy the railroad, numerous engines, and very valuable rolling-stock, and return from Pollard via Fifteen-Mile House and Pensacola to Barrancas," Asboth added.
The general concluded by insisting that local residents "are tired of rebellion and anxious to return to the Union, and the woods being full of deserters, I am confident that by starting with 2,000 men I would strike at Columbus with double that number."
Overseeing Asboth, Maj. Gen. E. R. S. Canby forwarded the proposal up the chain of command.
"This comes rather informally but is worthy of consideration," Canby wrote about Asboth's request. "General Asboth underrates the force of the enemy, and his estimate of the cavalry force required to perform the work he has in view is too small.
While Asboth never carried out the operation he envisioned, as historian Dale Cox noted in his excellent study of the battle of Marianna, his proposal led to the War Department authorizing more aggressive actions in the Panhandle, including sending reinforcements.
Asboth had a chance to carry out a more aggressive policy later in 1864. At the head of a column of 700 men, including formerly enslaved men now serving as American soldiers, Asboth was wounded at the Battle of Marianna, part of a dramatic and bloody raid in September that Cox has covered and written about extensively.At Marianna, Asboth was shot in the left arm and, while doctors did not have to amputate it, the general lost the use of it. Asboth also had a bullet lodged in his cheek leading to bone fragments and puss oozing out of it for some time to come.
While not as important as the Overland, Atlanta, Nashville and Valley campaigns that year, Asboth's raid showed that the North was getting more aggressive in going after civilians in order to end the war. The raid led to the Union forces claiming hundreds of horses and cattle and liberating 600 enslaved people while the damage Absoth's soldiers inflicted on the region should not be underestimated. According to the 1870 census, Jackson County's population dropped almost 7 percent from 10 years before. Marianna's growth stalled until the l880s. As Cox and others have noted, it took years for Marianna to recover from the raid.
Like the town he attacked, Asboth's recovery proved problematic.
William Harrison Clayton, a solder in the 19th Iowa Infantry, wrote about Asboth as he recovered from his wounds in Pensacola. "He appears to suffer a good deal of pain," Clayton wrote. "The general is quite grey-haired and looks as though he was about 60 years of age. He is a Hungarian – one of the Kossuth staff during the Hungarian war, and speaks English brokenly. He appears to be a go-a-head sort of man, and seems to think a good deal of his men."
After recovering in Pensacola and New Orleans, Asboth was able to resume command of the Department of West Florida but the wounds continued to trouble him for his few remaining years. After the war, President Andrew Johnson promoted him to a brevet major general to recognize his services. Johnson also named Asboth to serve as ambassador to Argentina and Uruguay in 1866 during a crucial time in those nations' history. Along with Brazil, those two South American nations were battling Paraguay in the War of the Triple Alliance, one of the bloodiest conflicts of the nineteenth century. Asboth led American efforts to mediate the conflict but he finally succumbed to his wounds in January 1868.
First interned in Buenos Ares, Asboth's remains were moved to Arlington National Cemetery in 1990 in a solemn ceremony. U.S. Rep. Frank Horton, R-NY, took to the House floor to praise Asboth.
"This deeply religious man was as much an American patriot in the latter part of his life as he had been a Hungarian one at the beginning," Horton said. "At one time, he expressed his attachment to his second homeland by saying, `It is in the free soil of North America in which I would wish to rest in eternal peace . . ..' With the return of his remains to the United States, his above expressed wish will finally be honored."
While he did not attend the ceremony at Arlington National Cemetery as Asboth was buried there, President George H.W. Bush penned a leader which was read at the event.
"This is a solemn occasion, but it is also a time to celebrate the legacy of an outstanding American–a patriotic man of great courage and conviction," Bush noted. "Ambassador Asboth, like all heroic individuals, stood up for what he believed. He fought against oppression in Hungary, and after arriving in this country, he fought in the Civil War to help keep his newly adopted homeland united. Following the war he continued serve our country with distinction, acting as its Ambassador to Argentina. This champion of freedom has earned a lasting place of honor in the history of three countries–the United States, Hungary, and Argentina–and his memory continues to unite us today.
"I commend the Hungarian Freedom Fighters Federation U.S.A. for your efforts to bring home the remains of Ambassador Asboth," Bush added. "He would be grateful for your efforts, and he would be proud of the role you have played in helping to fulfill his dream of a free and democratic Hungary."
Asboth's career was an odd one to be sure taking him from Hungary to Missouri to the Florida Panhandle to, finally, Argentina. Through it all, Asboth was dedicated to self-government, whether it was Kossuth's attempts to bring an American-style democratic republic to Hungary or his opposition to human slavery.
Kevin Derby is a Ph.D. student in the University of the Cumberlands' Leadership program and is currently working on his dissertation on Gen. John Pope and leading the change process.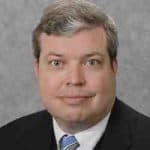 Latest posts by Kevin Derby
(see all)