Ahead in the polls over her Democratic primary rivals, former U.S. Rep. Gwen Graham, D-Fla., got a boost on Friday as one of the most prominent Democrats in the state endorsed her bid for governor.
U.S. Rep. Kathy Castor, D-Fla., announced that she was backing Graham at an event in Tampa.
"After 20 years of one-party Republican rule in Tallahassee, Florida desperately needs a leader who will put people first. Our public schools are being starved, our environment neglected and our health care rights are under attack," Castor said. "Gwen Graham understands the challenges Florida families face day in and out as a mother, former public school official and having represented our state in Congress. She will use her experience to restore our promise to students, defend our clean air and water, and stand up for affordable health care."
The daughter of former state Education Sec. Betty Castor, Kathy Castor has deep roots in Florida politics, including  four years on the Hillsborough County Board of Commissioners and a dozen years in Congress.
Castor pointed to the two years she served with Graham in Congress as one reason she was backing her.
"Serving together, I saw Gwen stand up to defend the Affordable Care Act every single time Republicans tried to repeal it," Castor said. "Unlike Rick Scott and Pam Bondi, Governor Gwen Graham will fight to protect coverage for pre-existing conditions. She will direct the state to assume the federal government's role in ACA outreach, protecting Floridians from Donald Trump's cuts. And Gwen will ensure better health outcomes for seniors."
"Congresswoman Castor has dedicated her life to serving the Tampa Bay area and the state of Florida. I was proud to work with her to protect affordable health care, restore Florida's natural treasures and protect women's rights. And I am honored to have her support in this race," Graham said. "Together, we will work to strengthen the Affordable Care Act for Floridians and expand health care for families across our state."
A month out until the primary, Graham is riding high. A poll from Florida Atlantic University (FAU) this week has Graham ahead with 20 percent while former Miami Beach Mayor Philip Levine takes 16 percent, billionaire Jeff Greene gets 14 percent, businessman Chris King gets 9 percent and Tallahassee Mayor Andrew Gillum takes 7 percent. A Mason Dixon poll released on Fridat has Graham with a solid lead, taking 27 percent, Levine with 18 percent, Greene in third with 12 percent, Gillum taking 10 percent and King with 7 percent. The primary will be held on August 28th.
Kevin Derby can be reached at Kevin.Derby@floridadaily.com.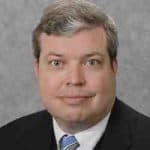 Latest posts by Kevin Derby
(see all)