 Satellite Beach residents and officials in Tallahassee are demanding changes after a 12-year-old girl was hit and killed crossing A1A at a crosswalk that the state added to try and prevent pedestrian injuries and deaths.
Now state Rep. Randy Fine, R-Brevard County, is trying to make permanent changes but the Florida Department of Transportation (FDOT) won't commit to any solutions for now.
Sophia Nelson was a sixth-grader at Surfside Elementary School who was returning from the beach just before Christmas. She stopped at the mid-block crosswalk, activated it, then waited for a gap in the cars. When she crossed, the oncoming car did not stop as it was required to by law, striking and killing Nelson. The driver has not been named but is cooperating fully with the investigation.
In the meantime, residents are irate over the crosswalks installed by the FDOT, insisting they do not turn red and only flash white and yellow lights at the crosswalk. Fine has introduced a bill that would force the FDOT to install crosswalk lights that will turn to red or remove them entirely.
"A crosswalk is supposed to be a safe place for a pedestrian to cross the street, but as we saw in December to devastating consequence, a flashing yellow crosswalk does not work," said Fine.  "It's quite simple – drivers know that a red light means stop. Yellow doesn't.   So this legislation would dictate that if government is going to create dedicated pedestrian crosswalks usable upon demand, the light should flash red once the button is pushed."
The bill would make this change statewide. Here is a crosswalk in Brevard County: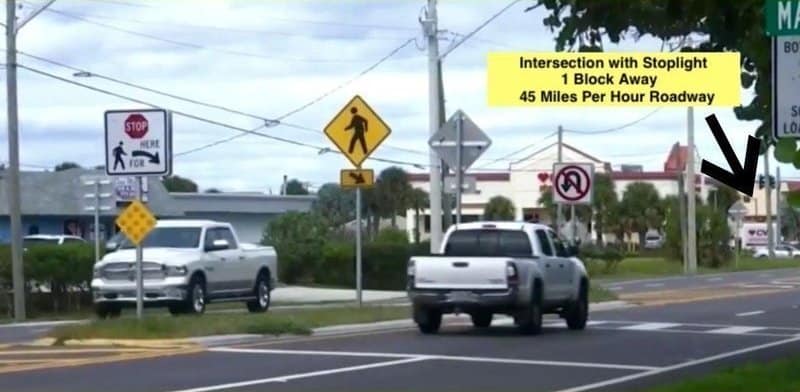 The photo comes from a Change.org petition from a Brevard County resident asking Gov. Ron DeSantis to change the crosswalks.
In the meantime, state Sen. Keith Perry, R–Gainesville, has championed the proposal in the Florida Senate.
"This vital piece of legislation aims to combat the life-threatening issue of pedestrian safety in midblock crosswalks. When every second counts, we need to do everything in our power to keep all Floridians safeguarded from the confusion that can tragically result in drivers not stopping in time. "Thank you, Representative Fine, for joining me in championing this much-needed bill," Perry said.
The FDOT has yet to take action but spokesman Steve Olson told Florida Daily the department is investigating the matter and searching for solutions.
"The department has had extensive coordination with local partners and stakeholders in implementing pedestrian safety improvements along the State Road (S.R.) A1A corridor. We appreciate the community's partnership and will continue focusing on future opportunities to improve safety. We understand the urgency and will continue very close coordination as we evaluate the recommendations being brought forth by all parties," Olson said.
The crosswalks have been added in Brevard County after the rising number of deaths and injuries to pedestrians there and across Central Florida. The region is rated as the worst in the nation for pedestrian fatalities.
Reach Mike Syan at mike.synan@floridadaily.com.
Latest posts by MIKE SYNAN
(see all)