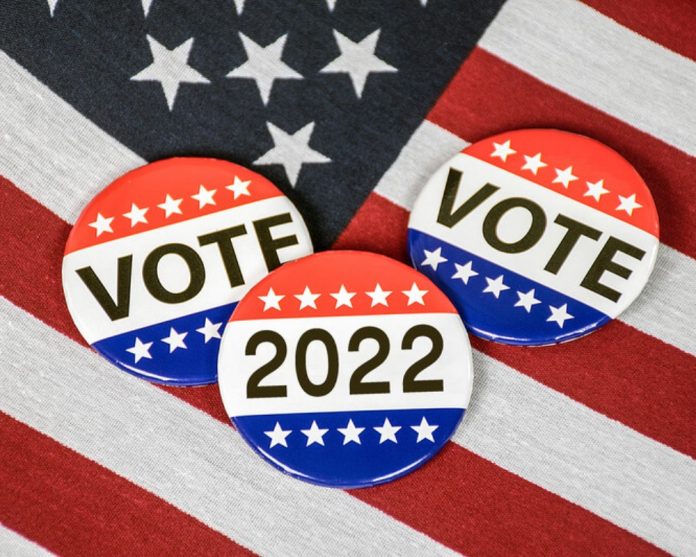 Everyone will be watching the election results for the top-of-ballot races in Florida, but there are other races to keep an eye on.
The headline contest is between Gov. Ron DeSantis and his Democratic challenger,‭ former Gov. ‬Charlie Crist. The U.S.‭ ‬Senate race between U.S. Sen. Marco Rubio, R-Fla., and U.S. Rep.‭ ‬Val Demings, D-Fla., is also getting attention. Florida Attorney General Ashley Moody is well on the way to a second term, leading former State Attorney Aramis Ayala, who won the Democratic primary, in all the polls.‭
But looking down-ballot,‭ ‬there are some interesting initiatives that are also worth watching.
Florida Constitution Amendments
Florida's notoriously easily amended Constitution has three proposed amendments up for approval.‭ ‬Amendment One is designed to incentivize Floridians who can protect their homes from the climate-changers‭' ‬predicted sea level rise.‭ ‬Any qualifying improvements would not be considered in the assessed value of the home for local property taxes.‭ ‬A‭ ‬2021‭ ‬Florida‭ ‬Senate staff analysis found that, if approved, the proposed amendment would reduce local property-tax revenues by‭ ‬$5.8‭ ‬million during the‭ ‬2023-2024‭ ‬fiscal year. That‭ ‬amount would ultimately‭ ‬grow to‭ ‬$25.1‭ ‬million annually.‭
We'll see if the voters want to give themselves a property tax break‭ – ‬likely a yes on this one but, to pass, it needs to pass the 60 percent threshold.‭ ‬Opponents caution that the loss in local revenue will need to be made up somehow,‭ ‬so it could mean higher local ad valorum property tax rates.
Amendment Two would repeal the state's Constitution Revision Commission (CRC) which meets every‭ ‬20‭ ‬years to propose amendments to the Florida Constitution.‭ ‬Created by voters in‭ ‬1968,‭ ‬the‭ ‬37-member Commission took a lot of heat for its bundling of various proposals that put generally favorable proposed amendments with others that were more politically motivated. These bundled amendments often appeared to many voters as being unrelated.‭
Critics of the proposed amendment believe a better approach is to limit the CRC's powers rather than throwing the proverbial baby out with the bath water.‭ ‬Watch the‭ "‬under-vote‭" ‬on this one.‭ ‬Most voters aren't familiar with the process but eliminating one avenue of citizens‭' ‬input on the state Constitution may not be viewed favorably.‭ ‬Even if the CRC is eliminated,‭ ‬amendments to the state Constitution can still be‭ ‬proposed by the Florida Legislature,‭ ‬through citizens‭' ‬petition initiatives,‭ ‬and by‭ ‬the Florida Taxation and Budget Reform Commission,‭ ‬which also meets every‭ ‬20‭ ‬years.
Amendment Three would provide an additional‭ ‬$50,000‭ ‬homestead exemption for teachers,‭ ‬law-enforcement officers,‭ ‬correctional officers,‭ ‬firefighters,‭ ‬emergency medical technicians,‭ ‬paramedics,‭ ‬child-welfare services professionals and active-duty members of the military and Florida National Guard for home values between‭ ‬$100,000‭ ‬and‭ ‬$150,000.‭ ‬This is in addition to the existing homestead exemptions on the first‭ ‬$25,000‭ ‬of the appraised value of property and the‭ ‬$25,000‭ ‬homestead exemptions on the value between‭ ‬$50,000‭ ‬and‭ ‬$75,000. Depending on your perspective,‭ ‬it is either a‭ ‬$80.9‭ ‬million savings for these property owners during the next fiscal year,‭ ‬with the annual savings growing to‭ ‬$93.6‭ ‬million in five years,‭ ‬or it is a commensurate loss to local government revenues.‭ ‬Critics point out that many who are employed in these targeted professions are renters and will be adversely affected by rent increases due to possible increases in local ad valorem property tax rates.‭ ‬With public sentiment for these professions at an all-time high‭ (‬and rightfully so‭)‬,‭ ‬expect a yes vote on this one.
Miami Dade Convention Center
Miami Dade voters will get to voice their opinion on a‭ ‬$1.5‭ ‬billion convention center deal with Hyatt,‭ ‬the Miami Riverbridge project.‭ ‬A‭ ‬proposed‭ ‬Charter Amendment‭ ‬is on the ballot‭ ‬to authorize the City Commission to‭ ‬approve a no-bid‭ ‬lease with HRM Owner LLC for up to 99 years,‭ ‬which would include the adjacent James L.‭ ‬Knight Center property.‭ ‬The proposed lease would have rent set at‭ ‬2.5 percent‭ ‬of gross revenues‭ ‬or an increased annual rent from‭ ‬$250,000.00‭ ‬to‭ ‬$2,500,000.00,‭ ‬whichever is greater.‭ ‬Proponents of the amendment‭ ‬promise a reimagined upscale Hyatt Regency hotel with‭ ‬615‭ ‬hotel rooms and‭ ‬188,000‭ ‬square feet of‭ ‬premium meeting space,‭ ‬more than‭ ‬1,500‭ ‬residential apartments,‭ ‬and open-air public space along the Miami River.‭ ‬The deal includes‭ ‬a‭ ‬$25,000,000.00‭ ‬affordable housing contribution to the City of Miami.‭ ‬Included in the deal is the restoration of historic riverfront park and the Flagler Worker's House,‭ ‬part of the‭ ‬1897‭ ‬Royal Palm Cottage.‭ ‬If voters approve the Charter amendment,‭ ‬expect about‭ ‬4,500‭ ‬construction jobs starting by‭ ‬2024,‭ ‬with completion of the first phases of the project by‭ ‬2028.
Hillsborough County Sales Tax Proposal
It seems Tampa and Hillsborough County voters will not have the opportunity to vote on the‭ ‬1 percent local sales tax proposal for transportation.‭ ‬The proposal‭ ‬was projected to generate‭ ‬$342‭ ‬million‭ ‬during its first year.‭ ‬That revenue was targeted for‭ ‬mass transit,‭ ‬road,‭ ‬intersection,‭ ‬and sidewalk construction,‭ ‬as well as‭ ‬other projects.‭ ‬Supporters of the tax claimed that the‭ ‬30-year tax‭ ‬would help address the‭ ‬$13‭ ‬billion backlog of‭ ‬needed transportation projects.‭ ‬Those opposed to the initiative‭ ‬said‭ ‬that Hillsborough‭ ‬County‭ ‬leaders needed to readjust current spending to‭ ‬allocate‭ ‬more dollars for transportation projects.‭ ‬The conservative view is that the county doesn't have a revenue problem‭; ‬it has a spending problem.‭ ‬In any event,‭ ‬earlier this month‭ ‬, Hillsborough County Circuit Judge Anne-Leigh Gaylord Moe removed the proposal from the ballot as vague and misleading.‭ ‬The Hillsborough County Commission voted along party lines‭ ‬5-2‭ ‬in favor of an appeal to the Second District Court of Appeal to challenge the ruling.‭ ‬Expect a request for a stay of the lower court ruling to try and keep the measure on the ballot.
St.‭ ‬Petersburg Proposal Moving City Office Elections
In a measure that has been floated in other cities and counties,‭ ‬St.‭ ‬Petersburg voters have Charter Amendment One that would move the election of city offices from odd-numbered years to even-numbered years to be in conjunction with national and state elections.‭ ‬If approved,‭ ‬the measure would take effect in‭ ‬2024‭ ‬and would extend the term of current‭ ‬city elected officials by approximately one year.‭ ‬Proponents tout that the amendment would increase voter turnout,‭ ‬add early voting at no additional cost to the city,‭ ‬and actually save the city money by consolidating the elections.‭ ‬Critics state that the amount of political noise that occurs with the national and state races will drown out the issues and messages of local races,‭ ‬meaning less informed votes on the offices and issues that affect citizens at the local level.‭
Lindsey Brock is based in McLeod Brock's Jacksonville office. His practice focuses on maritime, logistics, and commercial litigation, as well as public policy matters. He served two terms as the chair of the Admiralty Law Committee of the Florida Bar and authored the Cargo Law section of the Fla. Bar's Admiralty Law Desk Book. In 2019 Lindsey was appointed by Jacksonville City Council President Aaron Bowman to chair the Charter Revision Commission, which meets every 10 years to make recommendations as to the structure and governance of the city's government.
Latest posts by Guest Columnist
(see all)