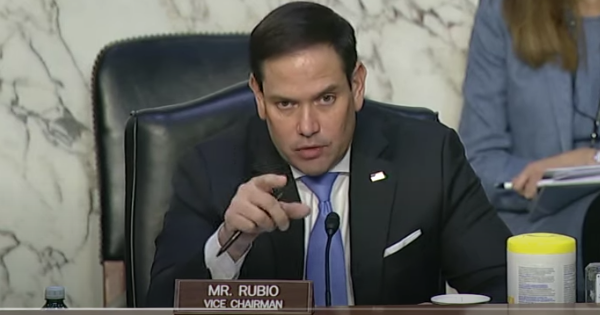 Last week, U.S. Sen. Marco Rubio, R-Fla., sent a letter to Dr. Rochelle Walensky, the director of the Centers for Disease Control and Prevention (CDC), regarding the agency's isolation guidance for fully vaccinated individuals.
The letter calls on the CDC to update its isolation guidelines by shortening the 10-day isolation period for those people who are asymptomatic and who test negative for COVID-19. This successful model is already being implemented at several universities to encourage students to get tested and vaccinated, and to help them resume their studies as quickly and safely as possible.
The full text of the letter is below.
Dear Director Walensky:
I write with regard to the Centers for Disease Control and Prevention (CDC) isolation guidance as it relates to fully vaccinated individuals that experience a breakthrough COVID-19 infection but remain asymptomatic. As you are aware, the current labor shortage continues to cripple our economic recovery and threatens to deny critical services to Americans, including emergency healthcare, in-person education, and even the availability of food at supermarkets.
Several reports have documented how the Biden Administration's looming COVID-19 vaccine mandate has exacerbated worker shortages across the healthcare, transit, service, and numerous other industries. Just this week, Amtrak announced it would temporarily suspend COVID-19 vaccine requirements to prevent workforce shortages that would have resulted in service cuts next month. In Florida, we are seeing massive workforce shortages of critical healthcare workers, including nurses and other allied health professionals.
As if the labor crisis was not bad enough, it appears we are on the verge of another COVID-19 wave, spurred in part by the rapid spread of the Omicron variant. While it appears less dangerous than previous strains, it also appears more highly contagious than anything we have seen throughout the pandemic. The risk is that millions of fully vaccinated people will now become infected in the weeks ahead, effectively crippling America's workforce.
Unfortunately, the CDC seems committed to making things worse. Its outdated isolation guidance – unchanged since 2020 – instructs asymptomatic individuals to self-isolate for at least 10 days after testing positive even if they are fully vaccinated and produce a negative test result. Many fully vaccinated individuals cannot afford to sit in isolation, especially after testing negative. Forcing hundreds of thousands of workers to needlessly self-isolate will further disrupt our economy and worsen our labor shortage.
The ability to return to life is one of the reasons why millions of Americans made the decision to get vaccinated. Earlier this year, the federal government stated that everyone needed to get vaccinated in order to return to school, gather with their communities, and go to work. Instead, this administration continues to contradict its own message by making no distinction between individuals that are unvaccinated and those that are fully vaccinated under its current isolation guidance. This is an insult to those who put their trust in our public health professionals and completely ignores the scientific fact that fully vaccinated individuals with a breakthrough infection are less likely to transmit the SARS-CoV-2 virus .
It makes absolutely no sense that the CDC has not updated its isolation guidance despite the widespread availability of vaccines and reliable rapid testing. The CDC should amend its isolation guidelines for fully vaccinated individuals. While the CDC has updated quarantine guidelines for fully vaccinated individuals that are exposed, the current isolation guidelines treat both the unvaccinated and vaccinated the same. The agency fails to take into account someone's vaccination status, severity of symptoms, and negative test result to shorten the period of isolation. This will lead to people with mild or non-existent symptoms to simply refuse testing to avoid a 10-day isolation period.
Some universities have recognized this problem and have initiated programs to shorten isolation periods for students. For instance, Cornell University now allows immunized individuals with breakthrough infections to test out of the mandated 10-day isolation period. Cornell's Vice Provost for Academic Integration and Professor in the Department of Medicine at Weill Cornell Medicine, Dr. Gary Koretzky, stated "Isolation of positive individuals is a key part of controlling COVID-19 transmission but we also recognize that a 10-day isolation is really disruptive for students' educations and their lives."
It is time that the CDC take similar steps to update its isolation guidelines for fully vaccinated individuals by shortening the 10-day isolation period for those who are asymptomatic and who test negative. The well-being of our children depends on it, and further, our essential workers depend on it to both provide for themselves and to meet the critical workforce needs our nation faces.
Thank you for your attention to this issue, and I look forward to your prompt response.
Latest posts by Florida Daily
(see all)