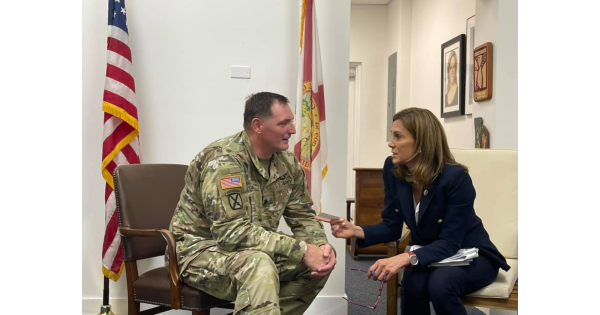 Last week, U.S. Rep. María Elvira Salazar, R-Fla., brought out the "Supporting Every at-Risk Veteran In Critical Emergencies (SERVICE) Act."
The bill has 30 co-sponsors led by U.S. Rep. Lou Correa, D-Calif. U.S. Rep. Scott Franklin, R-Fla., is the only member of the Florida delegation to co-sponsor the bill so far.
"The SERVICE Act creates a pilot program through the U.S. Department of Justice that would provide grants to law enforcement agencies to create local veteran response teams — teams of military veteran law enforcement officers that respond to other veterans in crisis or emergency. Once the emergency is under control, the response team can work further with the veteran to connect them with public and private partner resources to create long-term solutions and care," Salazar's office noted. "The SERVICE Act was inspired by the Cincinnati Police Department's (CPD) 'Military Liaison Group' created by Sergeant Dave Corlett. This is the only group of its kind in the United States and currently responds to calls all over the Midwest. Upon the initiation of the CPD's Military Liaison Group, Sgt. Corlett had the goal to make the tool nationwide for law enforcement to help veterans in need. The SERVICE Act, if passed, would create a federal grant pilot program that would expand the program nationwide."
Salazar weighed in on Thursday as to why she thinks her bill is needed.
"Research shows that when a veteran is in crisis, they are most receptive to help and support provided by fellow veterans. Nearly 20 percent of our U.S. law enforcement has served in the military, and they are undoubtedly the most well-equipped to respond to other veterans in need," said Salazar. "Our veterans have sacrificed so much for our freedoms, and we owe them the best care possible when they return from their service. I am proud to introduce the SERVICE Act to provide support to our brave men and women in uniform."
"In their times of need, veterans in crisis respond much better to fellow veterans. That's why I am proud to co-lead the SERVICE Act, which creates veteran's rapid response teams in state, local, and tribal law enforcement agencies," said Correa. "At a moment when veteran suicides represent 13.7 percent of U.S. adult suicides, and when veterans are twice as likely to die from accidental overdose compared to the general U.S. population, this legislation creates a tangible solution and a cushion of support for the 18.8 million veterans in the United States, 9,862 of whom call my district home. This legislation will help veterans access timely care, get connected to proper resources, find jobs and will save lives."
"On behalf of the Cincinnati Police Department Military Liaison Group, we couldn't be more excited about the interest Congresswoman Salazar has taken in the expansion of our program or programs like it. This investment in community oriented policing will allow us to better serve our military and veteran communities. This program has and will continue to save lives both literally and figuratively," said Corlett.
The Vietnam Vets of America, Hope for the Warriors, Easterseals, the R Street Institute and the Florida Police Chiefs Association are all backing the bill.
"All too often, veterans who have survived combat and have trouble readjusting to civilian life find themselves in conflict with the law. Their unexplained, volatile hostile actions provoke a defensive response from law enforcement, often resulting in the loss of life," said John Rowan, the national president of Vietnam Veterans of America. "Vietnam Veterans of America fully supports the Supporting Every at-Risk Veteran In Critical Emergencies Act of 2021. We know from experience that a veteran is more likely to respond to a fellow veteran in time of crisis. A Veteran Response Team trained in mental health would arm the judicial system with a mechanism to intervene on behalf of the veteran struggling with readjustment to civilian life, and most important, it will save lives."
"We believe that providing training and education for law enforcement officers on mental health issues related to military service, such as post traumatic stress disorder, traumatic brain injury, depression and anxiety can only help us to assist those heroes in their time of need," said Jennifer Pritt, the executive director of the Florida Police Chiefs Association. "[We would like to] express the Florida Police Chiefs Association's (FPCA) support of [Congresswoman Salazar's] proposed legislation relating to authorizing the attorney general to make grants for the creation and operation of veteran response teams within law enforcement agencies."
The bill was sent to the U.S. House Judiciary Committee last week. So far, there is no companion measure over in the U.S. Senate.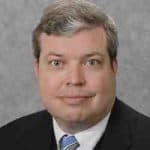 Latest posts by Kevin Derby
(see all)