 Former journalist Maria Elvira Salazar is hoping for a rematch with freshman U.S. Rep. Donna Shalala, D-Fla., next year.
After longtime U.S. Rep. Ileana Ros-Lehtinen, R-Fla., announced her retirement from Congress after almost 30 years, Shalala, who served as secretary of Health and Human Services (HHS) under President Bill Clinton and led the University of Miami, flipped the seat, defeating Salazar 52 percent to 46 percent.
Salazar announced on Thursday that she would make a second congressional bid.
"The desire to bring socialism to this country by extreme Washington liberals isn't just wrong; it's dangerous," said Salazar. "The romanticism of socialist principles by the left is not simply rhetoric to those in our community. Families here, like my own, risked everything to flee oppressive socialist regimes in pursuit of the freedom and the American Dream. As extreme liberals in Washington spew dangerous socialist and hateful anti-Semitic rhetoric, Donna Shalala stays silent. Silence in the face of oppression is complicity. I am running for Congress to give a voice to our community who know full well the dangers of socialism; the voice of freedom."
Salazar made her campaign pitch in an online video.
"Coming to terms with leaving behind everything you have work for your entire life and starting anew with only five dollars in your pocket is not a big price to pay when freedom is at stake," she said in the video. "This is the story of many exiles including my Cuban parents who came to this great country empty handed sixty years ago. Puerto Rico welcomed us, then Little Havana became our home. I grew up hearing about the horrors and injustices of the socialist Castro regime which instilled in me a deep faith in and a desire to pursue the American Dream.
"My career as a journalist has taken me all over the world in particular Latin America," she added. "I have confronted dictators with questions they did not want to hear and much less wanted to answer. Despite the dangers to my own life I covered the wars in Central America because as a journalist I was committed to making the truth known. My experiences in El Salvador, Nicaragua, Guatemala, and Honduras convinced me that I needed a deeper understanding of the political forces at play in that region, forces that until today continue to haunt our Cuban and Central American brethren. With my own savings I enrolled in the John F. Kennedy School of Government at Harvard to gain that understanding. Armed with that knowledge, today I can speak with authority problems and solutions for Cuba, for Venezuela, and Central America. After Harvard, I went back to journalism, my first love, and became the national news anchor for various Spanish television networks. Then back in South Florida I decided to have my own television show where the voices of my community, Miami, could be heard. Voices that Donna Shalala callously continues to ignore."
Salazar came out swinging at Washington and Shalala.
"In Washington, some politicians of both parties behave like corrupt banana republic dictators and Shalala is a founding member of that club," Salazar insisted.  "While some members of her party peddle the same radical, socialist agenda that has ruined the countries from which many of us escaped, Shalala remains disturbingly silent. Silence in the face of oppression is complicity. And when members of her party in Congress spew anti-Semitic rhetoric against Israel, our great American ally, not a word from Shalala. We must not be silent. We must not remain on the sidelines while many on the left want to implement in this country the failed socialist system that brought misery, oppression, and exile to many of our countries. I am running for Congress to serve and protect the freedoms and values that have made the United States the most extraordinary country in the history of the world. For that reason, I will not be invisible, I will not remain on the sidelines, and I will not be silent. I will fight to preserve and protect the freedom for which my parents were willing to give up everything."
The district, which includes part of Miami-Dade, has a slight Democratic advantage as members of that party made up 35 percent of the district last year while 32 percent were registered Republicans. Donald Trump did not do well here in 2016, taking 38 percent while Hillary Clinton pulled 58 percent in the district.
Salazar does not have an open shot at the Republican nomination. Businessman and engineer Gabe Ferrer is also running for the Republican nomination.
Reach Kevin Derby at kevin.derby@floridadaily.com.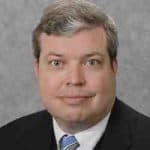 Latest posts by Kevin Derby
(see all)