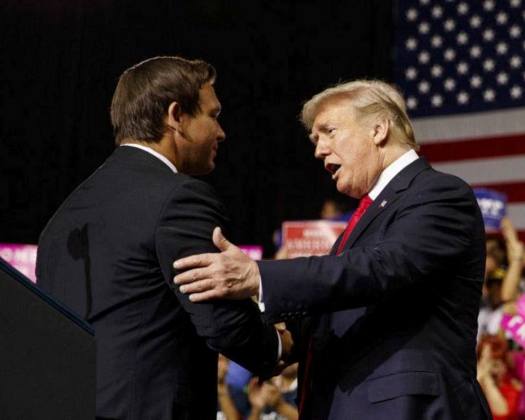 Gov. Ron DeSantis is proactively implementing President Donald Trump's immigration agenda in Florida. Angel Families like mine are grateful to finally have elected officials who have our backs.
My son Brandon was a police sergeant in Mesa, Arizona. In 2014, just one day after Mother's Day, Brandon was killed by a criminal illegal alien who was driving the wrong way while drunk and high on meth. Since then, I've devoted myself to honoring Brandon's memory and fighting against the policies that allowed his killer to roam free.
In many cases, keeping Americans safe from criminals like the one who killed Brandon is just a matter of enforcing laws that are already on the books. That's what makes it so infuriating. We have laws that are specifically designed to prevent violent criminals from entering our country, but Democrats refuse to enforce them and American families are forced to pay the price.
President Trump, on the other hand, has made border security and immigration enforcement some of his administration's top priorities — and Angel Families are never far from his mind as he pursues those goals.
Since taking office a year ago, Gov. DeSantis has been a crucial ally in the fight against illegal immigration, implementing policies in Florida that parallel the president's efforts at the federal level. In June, for instance, DeSantis signed a bill banning sanctuary cities, making it illegal for Florida municipalities to shelter illegal aliens in police custody from deportation by Immigration and Customs Enforcement (ICE) officers.
Sanctuary policies are a direct threat to the safety and well-being of American citizens, allowing dangerous criminals back onto the streets simply so that Democrat officials can stick a proverbial finger in the eye of their political opponents. Floridians should be grateful that their governor is taking a stand against this absurd practice.
Now, DeSantis is taking the next logical step by throwing his support behind legislation that would make "E-Verify" mandatory for all employers in Florida. Economic opportunity is one of the primary reasons that people enter this country illegally and strictly enforcing existing laws that prohibit hiring unlawful residents is a common-sense way to remove that incentive.
E-Verify is a quick, easy way for employers to verify that their employees are legal workers in a federal database, which is why President Trump sought to make it mandatory nationwide. Congressional Democrats blocked that effort but, as one of the most populous states in the country, Florida's adoption of E-Verify would represent a huge step in the right direction.
Florida already requires state agencies to use the E-Verify system for government jobs. Extending that mandate to the private sector would affect about 10 million additional positions statewide, making Florida a much less attractive destination for illegal immigrants.
While the overwhelming majority of illegal immigrants are not criminals, the unfortunate reality is that some are simply bad people. Every single crime committed by someone who is in this country unlawfully is a preventable tragedy. We've had the necessary laws on the books for decades; we just needed elected officials with the courage and fortitude to enforce them.
In President Trump and Governor DeSantis, Angel Families have fierce advocates who are committed to enforcing our immigration laws and sparing other Americans the pain we've endured.
Mary Ann Mendoza is an Angel Mom from Arizona and is a member of the Donald J. Trump for President Inc. advisory board.
Latest posts by Guest Columnist
(see all)