 State Rep. Matt Caldwell, R-Lehigh Acres, currently running in the Republican primary for Florida agriculture commissioner, was honored on Friday for his defense of term limits.
U.S. Term Limits (USTL), which is based in the Sunshine State, named Caldwell its "2018 Florida Champion of Term Limits" on Friday.
"The term limits movement has no stronger ally in Florida than Matt Caldwell," said U.S. Term Limits Executive Director Nick Tomboulides. "From protecting legislative term limits to advancing limits on offices like school boards and Congress, Matt has been a consistent champion for bringing government closer to the people."
Tomboulides pointed to Caldwell's work in Tallahassee pushing for term limits for members of Congress, school boards and the judiciary including the Florida Supreme Court. Caldwell's work making Florida the first state to support a term limits convention was also honored.
"Term limits have served Florida well, helping our state achieve competitive elections and best-in-the-nation rankings on fiscal health" said Tomboulides. "We're grateful for leaders like Matt Caldwell who've worked to help expand this idea as much as possible."
First elected to the Florida House in 2010, Caldwell faces term limits himself this year. He represents parts of Lee County and chaired the House Government Accountability Committee when the Legislature met earlier this year.
Caldwell is running in next month's Republican primary. Other Republicans running in the primary include state Sen. Denise Grimsley, R-Lake Placid, former state Rep. Baxter Troutman and retired Army Col. Mike McCalister who ran for governor in 2010 and the U.S. Senate in 2012.
There are three candidates running for the Democratic nomination in the agriculture commissioner race: attorney and lobbyist Nikki Fried, Homestead Mayor Jeff Porter and biologist R. David Walker.
Kevin Derby can be reached at Kevin.Derby@floridadaily.com.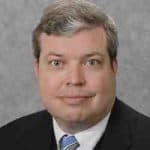 Latest posts by Kevin Derby
(see all)