Ten members of the Florida delegation on Capitol Hill held a meeting on Thursday and heard about a new hurricane tracking system being used for the first time this year.
The two leaders of the Florida delegation–Republican U.S. Rep. Vern Buchanan and Democrat U.S. Rep. Alcee Hastings–called the meeting to hear from Dr. Neil Jacobs of the National Oceanic and Atmospheric Administration (NOAA).
Besides Buchanan and Hastings, eight other members of the Sunshine State's delegation showed up to the meeting on Thursday morning. Florida Republican U.S. Reps. Gus Bilirakis, Carlos Curbelo, Neal Dunn and Ted Yoho and Democrat U.S. Reps. Kathy Castor, Charlie Crist, Val Demings and Darren Soto also attended the meeting. The event was open to the public and was held in the Rayburn House Office Building.
Buchanan asked Jacobs about new models that the NOAA was using to track hurricanes.
"The devastating hurricane season of 2017 demonstrated the necessity for prompt and accurate hurricane forecasts," Jacobs said. "NOAA's observational and modeling enhancements for the 2018 season put us on the path to deliver the world's best regional and global weather models."
Capt. Melissa DeLeon, liaison to the division of emergency management with the Florida National Guard and Bill Johnson with the Palm Beach County emergency management office also spoke to the Florida delegation.
For his part, Buchanan liked what he heard from Jacobs about the upgrades in hurricane tracking.
"The more accurate information we have the better Floridians can prepare," Buchanan said on Thursday.
With hurricane season having started last month and lasting through November, forecasters are predicting less hurricanes in the Atlantic than 2017 however they are still insisting it will be a "near or above normal" hurricane season. In the meeting with the Florida delegation on Thursday morning, Jacobs noted that the NOAA is predicting between one through four major hurricanes in 2018.
Kevin Derby can be reached at Kevin.Derby@floridadaily.com.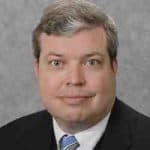 Latest posts by Kevin Derby
(see all)