This week, former Vice President Mike Pence, a possible Republican presidential hopeful in 2024, helped launch the GOP's efforts to woo Jewish voters in the Sunshine State.
Pence, former U.S. Sen. Norm Coleman, R-Minn., state Rep. Randy Fine, R-Brevard County, and Barbara Feingold from the Florida Republican Jewish Coalition helped open the GOP's Boca Raton Jewish Community Center.
"Today, by opening this center, as part of a movement to open community centers all across the country, we are opening the doors wide," Pence said. "We are going to win back the Congress in 2022, and we're going to win back America in 2024."
"We have to tell our Jewish brothers and sisters that the Democratic Party has left them and they are welcome in the Republican Party," said Fine.
The Republican National Committee (RNC) insisted that the GOP is making inroads with Jewish voters who traditionally back the Democrats by large margins.
"As Biden's approval has fallen by 17 points among Jewish voters, Republicans are gaining support within the community and building Republican momentum with our community centers," the RNC noted.
"While entitled Florida Democrats continue to take voters for granted while abandoning them, Republicans are only further embedding ourselves in communities throughout Florida," said RNC Spokeswoman Julia Friedland.
With May being Jewish American Heritage Month, Democratic National Committee (DNC) Jamie Harrison and the co-chairs of the DNC's Interfaith Council honored Jewish Americans this week and promised to fight for them.
"Jewish history is inextricably bound up in American history, and this Jewish American Heritage Month we celebrate a community that is essential to the fabric of our nation. Generations of Jewish people came to the United States fleeing oppression, discrimination, and persecution, and have made an immeasurable impact throughout American life. From science and public service to literature and the arts, Jewish Americans have made invaluable contributions to our nation," Harrison and his team said in a joint statement.
"While we celebrate the achievements of Jewish Americans, we must also note that the scourge of antisemitism persists, with incidents having risen alarmingly last year. The Democratic Party is committed to fighting back against this senseless hatred and to protecting and strengthening a country where justice and equality prevail," they added.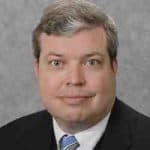 Latest posts by Kevin Derby
(see all)