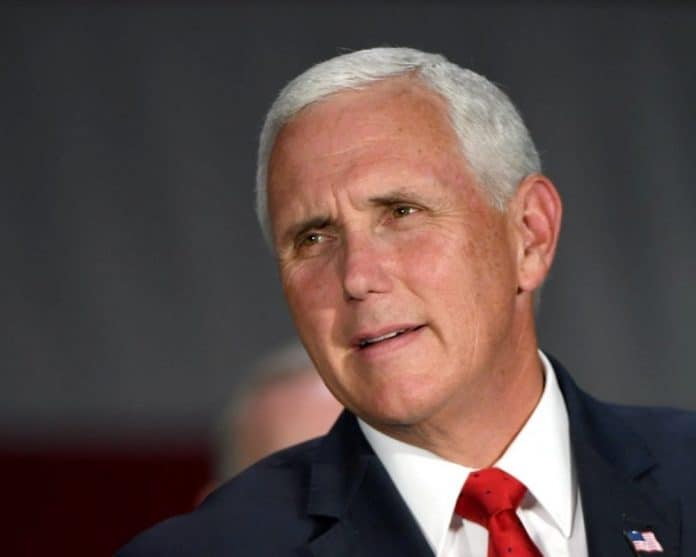 Vice President Mike Pence made multiple stops in Orlando on Wednesday, bringing personal protective equipment and high hopes for a big economic recovery.
Gov. Ron DeSantis met Pence at the airport and they greeted each other with elbow bumps. They had lunch at Beth's Burger Bar but the two most important stops focused on public health and the economy.
At Westminster Baldwin Park, a retirement home, Pence came prepared, dropping off 316 masks, 2,400 gloves, gowns and eye protection equipment. Pence's effort is part of a larger, nationwide push to provide supplies to all assisted living facilities and other senior centers.
Pence promised more help to DeSantis.
"Governor, our pledge to you is we're going to continue to make sure that your healthcare workers, including those who serve in nursing homes and long-term healthcare facilities, have the resources to protect themselves while they're protecting the most vulnerable," Pence said.
Orlando's economy remains reliant on tourism, and Pence met with industry leaders at a roundtable event on Wednesday. He thanked the theme park and hotel industries for doing the right thing by closing.
"To put the health of people who come from all around the world to visit this great city and these incredible attractions was commendable. I know it was unprecedented, but your willingness to adhere to federal guidance and make those choices, I think, represents the very best of what makes American business special," Pence said.
Pence also warned that more economic pains could be coming with future travel restrictions still under review.
"We're watching very carefully what's taking place in South America, including in Brazil.  We saw in recent days there was a significant spike in cases.  And the president has made it clear that we — we're considering additional travel restrictions not just including Brazil, but other countries," Pence said.
The news for the tourism industry isn't all bad though. Some parts of Disney Springs have opened while Universal Studios is operating much of City Walk.  Plans are coming together to reopen theme parks in Central Florida.
Interim Sea World CEO Marc Swanson said he believes his park will lead the way since almost all of it is outdoors. He also floated some potential reopening dates.
"From the time we get the approval it's a couple of weeks–two, three, four–weeks to ramp up, get our employees back, get everyone in there. So we're going to try and get in front of this, get our things moving as quickly as possible, and then get the approval and move forward. We would probably be, obviously then, sometime in June," Swanson said.
The plans Swanson referred to will be submitted this week to the working group set up by Orange County Mayor Jerry Demings that is trying to get Orlando back open.
Pence wanted to make sure both the health care industry and tourism industry heard a positive message before he headed back to Washington.
"We'll keep the help coming and we'll get through this," Pence said.
Pence is scheduled to return to the Sunshine State next week when astronauts will launch into space from American soil for the first time since the space shuttle program. A Space X rocket is scheduled to lift off from Cape Canaveral on Wednesday.
Reach Mike Synan at mike.synan@floridadaily.com.
Latest posts by MIKE SYNAN
(see all)