 With less than seven weeks to go until the primary, a new poll shows more than half of Florida Republicans remain undecided on who they want as their candidate for state attorney general but state Rep. Frank White, R-Pensacola, has the lead over former Judge Ashley Moody.
St. Pete Polls released a survey of registered Florida Republicans on Wednesday which finds that 55 percent of them are undecided while White takes 26 percent while Moody takes 19 percent. The poll was commissioned by Florida Politics.
The poll finds both of the candidates remain largely unknown to Florida Republicans. A solid majority of those surveyed–62 percent–are unsure what they think of White while 32 percent see him in a favorable light and 7 percent view him unfavorably.
Moody is less familiar to Florida Republicans than White with 71 percent of those surveyed unsure what they think of her while 23 percent see her favorably and 6 percent view her in an unfavorable light.
White leads Moody with both genders and has the edge with most age groups. However, Moody does have a lead when it comes to Florida Republicans under the age of 30.
In every media market, a majority or plurality of Florida Republicans remain undecided. White has solid leads over Moody in his Pensacola home base , Jacksonville,  Gainesville and Orlando and a slight edge in Tampa–which is where Moody is from–and Fort Myers. Moody has the lead in Panama City, West Palm Beach and Miami. The two candidates are running even in the Tallahassee market.
The poll of 1,387 Florida Republicans was taken from July 10-July 11 and had a margin of error of +/- 2.6 percent.
State Rep. Sean Shaw, D-Tampa, and Central Florida attorney Ryan Torrens are running in the Democratic primary.
Kevin Derby can be reached at Kevin.Derby@floridadaily.com.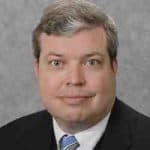 Latest posts by Kevin Derby
(see all)