Florida's newest member of Congress received her committee assignments this week.
U.S. House Speaker Nancy Pelosi, D-Calif., announced that House Democratic Caucus approved of the decision to assign U.S. Rep. Sheila Cherfilus-McCormick, D-Fla., to the U.S. House Education and Labor Committee and the U.S. House Veterans Affairs Committee.
"Congresswoman Sheila Cherfilus-McCormick comes to the House as a longtime advocate for quality, affordable health care and economic opportunity for working Floridians," Pelosi said. "As a working mother and the daughter of immigrants, she will bring to the Education and Labor Committee a valued perspective and a passion for building a more just economy that provides a brighter future for our children. On the Committee on Veterans Affairs, she will elevate the voices of the heroes in Florida and across our nation who have proudly served in uniform. South Florida families will be well-served by Congresswoman Cherfilus-McCormick's tireless leadership as she joins House Democrats in our work 'For The People'."
"I'm honored to join the House Education and Labor Committee and the House Committee on Veterans Affairs for the 117th Congress," Cherfilus-McCormick noted.
Cherfilus-McCormick replaced longtime U.S. Rep. Alcee Hastings, D-Fla.. who died in April. In the special election held at the start of last month, she took 79 percent of the vote while Republican Jason Mariner got 19 percent, Libertarian Mike ter Maat garnered 1 percent and two candidates–Jim Flynn and Lenny Serratore–who were both running with no party affiliation–each pulled around .5 percent. Despite being trounced in the election, Mariner has refused to concede even as he pulled similar numbers to other Republicans there in recent years. A majority-minority district covering parts of Broward and Palm Beach Counties, this is a very secure district for Democrats. Hastings took 78 percent of the vote in 2020 while Republican Greg Musselwhite pulled 22 percent. Joe Biden took 77 percent of the vote in this district in 2020 while Donald Trump got 22 percent.
The Democratic primary proved very different. After several recounts, Cherfilus-McCormick prevailed by Broward County Commissioner Dale Holness and a large crowd to win the Democratic nomination. After recounts were finished and with all votes in, Cherfilus-McCormick beat Holness by five votes–11,662–23.76 percent–to 11,657 votes–23.75 percent.
After taking 26 percent of the Democratic primary vote against Hastings in 2018 and 32 percent of it last year, Cherfilus-McCormick ran a third time and she and Holness outpaced the field. Holness drew heavily in Broward County taking 29 percent of the vote there while Cherfilus-McCormick pulled 21 percent, enough for second place there. But she ran away in Palm Beach County, taking 30 percent while he garnered only 8 percent there.
The rest of the field finished behind the top two Democrats. Broward County Commissioner Barbara Sharief stood in third with 18 percent followed by former state Sen. Perry Thurston, D-Ft. Lauderdale, who led Democrats in the Florida House during his time there and ran for his party's nomination for attorney general back in 2014, with 15 percent.
Other candidates placed in the single digits. Former state Rep. Bobby DuBose, D-Ft. Lauderdale, who was one of his party's co-leaders in the Florida House the past two years, pulled 7 percent. Former state Rep. Omari Hardy, D-West Palm Beach, who also served as a teacher and on the Lake Worth City Commission, took 6 percent. Priscilla Taylor, who served in the Florida House and on the Palm Beach County Commission, garnered 3.5 percent. Community activist and author Elvin Dowling, who served as the chief of staff of the National Urban League and as an aide on Capitol Hill, took 1.3 percent. Emmanuel Morel, a labor consultant who has run for Congress and for legislative office before, was back for another try and pulled 1 percent. Phil Jackson, a Navy veteran who worked in higher education, took .7 percent and Imran Uddin Siddiqui garnered .6 percent.
On the Republican side, Mariner took 58 percent, beating Musselwhite for the GOP's nomination. But less than 6,100 Republicans voted–while more than 49,000 Democrats did, showing how blue this district is.
With the Legislature currently handling redistricting, some candidates are already gearing for the August primary and the general election in November. Holness has already said that he will seek a rematch against Cherfilus-McCormick. Businessmen Dwight Anderson and Pradel Vilme have also filed to run in the Democratic primary. Sharief could also make another congressional bid.
In the meantime, businessman Vic DeGrammont, who ran in 2020, is seeking the Republican nomination while Serratore has filed to run with no party affiliation in November. Mariner could also make another try.
Still, congressional redistricting could impact this district significantly. In his proposed congressional map, Gov. Ron DeSantis impacted this district considerably.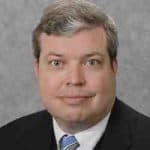 Latest posts by Kevin Derby
(see all)