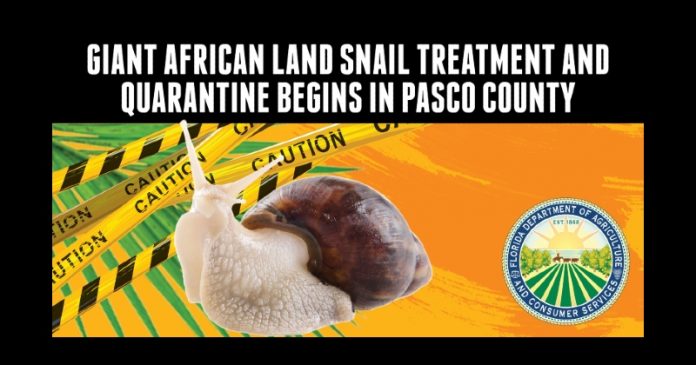 Last week, Florida Agriculture Commissioner Nikki Fried and the Florida Department of Agriculture and Consumer Services (FDACS) Division of Plant Industry (DPI) held a media briefing to discuss their ongoing work being conducted following the detection of invasive giant African land snails (GALS) in Pasco County.
Fried was joined by DPI Assistant Director Dr. Greg Hodges, DPI Deputy Director Bryan Benson, and Sparkey, a canine from the DPI Detector Dog Inspection Program.
"We are so lucky to have an experienced team ready to prevent, detect, and treat invasive threats," said Fried. "Let me assure you, we will eradicate these snails. We have done it twice before, and we will do it again – it is not a question of if, but when. Together, let's locate, communicate, and eradicate, so Florida can again be GALS free."
If you see a snail that you believe is a giant African land snail, please contact our Division of Plant Industry helpline at 1-888-397-1517 and do not attempt to touch or capture yourself.
"With our personnel, expertise, and proven eradication methodologies, we are confident in our ability to obtain eradication once again" said Hodges. "This effort will require a cooperative effort by FDACS, the USDA, UF/IFAS, the city of New Port Richey, Pasco County, and most importantly, the homeowners."
\The giant African land snail is a highly invasive agricultural pest, known to feed on over 500 varieties of plants. They also pose a risk to humans and animals by carrying rat lung worm, a parasite that can cause meningitis in humans. GALS are illegal to import or possess in the United States without a permit. DPI previously eradicated the giant African land snail in 2021 from a 2011 detection in Miami-Dade County.
On June 23, 2022, FDACS confirmed the detection of a giant African land snail in the New Port Richey area of Pasco County. FDACS's DPI started surveying the area, enacted a quarantine, and began treatment to eliminate the pest. FDACS is treating properties with a metaldehyde-based molluscicide (snail bait). The treatment is labeled by the U.S. Environmental Protection Agency for residential use.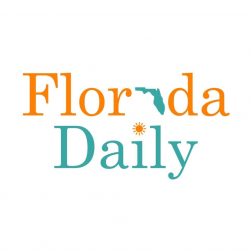 Latest posts by Florida Daily
(see all)