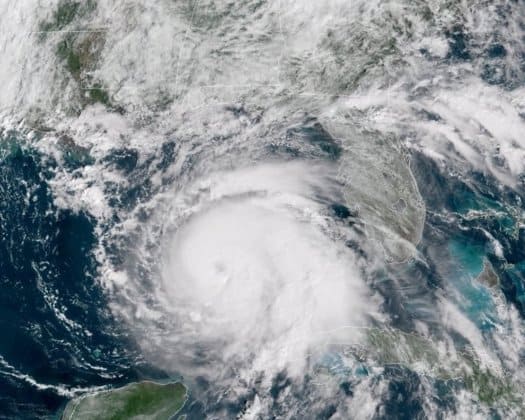 Six months after Hurricane Michael hit the Panhandle and the Big Bend, the National Oceanic and Atmospheric Administration (NOAA) determined that it was a category 5 storm with its wind speeds at landfall determined to be more intense than first thought.
"Michael is the first hurricane to make landfall in the United States as a category 5 since Hurricane Andrew in 1992, and only the fourth on record. The others are the Labor Day Hurricane in 1935 and Hurricane Camille in 1969. Michael is also the strongest hurricane landfall on record in the Florida Panhandle and only the second known category 5 landfall on the northern Gulf coast," the NOAA noted on Friday. "The real-time operational intensity estimate was 135 knots (155 mph). The final best track intensity estimate of 140 knots (160 mph) was determined by a review of the available aircraft winds, surface winds, surface pressures, satellite intensity estimates and Doppler radar velocities – including data and analyses that were not available in real time. The 5 knot (5 mph) increase in the estimated maximum sustained wind speed from the operational estimate is small and well within the normal range of uncertainty.
"Category 5 winds were likely experienced over a very small area at and near the coast, and the change in estimated wind speeds is of little practical significance in terms of the impacts associated with the storm. Michael produced devastating winds and storm surge and was directly responsible for 16 deaths and about $25 billion in damage in the United States. Before hitting the United States, the cyclone brought hurricane-force winds to the western tip of Cuba when it was a category 2 Hurricane," NOAA added. "Along with wind speed, atmospheric pressure is a measure of storm intensity. In general, the lower a storm's central pressure, the higher the winds. Michael's central pressure of 919 millibars (mb) at landfall is the third lowest on record for a landfalling U. S. hurricane since reliable records began in 1900, trailing only the Labor Day Hurricane of 1935 (892 mb) and Hurricane Camille of 1969 (900 mb)."
State CFO Jimmy Patronis, who is based out of Bay County, weighed in on Friday.
"The news that Hurricane Michael was a Category 5 storm at landfall will come as no surprise to anyone who is still living with the aftermath of this monster storm. Six months later we still don't have congressional relief dollars, and the people of the Panhandle are stuck in the middle of political games.  The prolonged recovery process has only been made worse by the lack of compassion of members of Congress turning a blind eye to the hardships in Northwest Florida," Patronis said.
"I hope this news serves as a strong wake up call to those prioritizing politics over real people fighting to get by," Patronis added. "The Panhandle has so many families struggling as they piece their lives back together bit by bit—we need relief now."
Latest posts by Florida Daily
(see all)