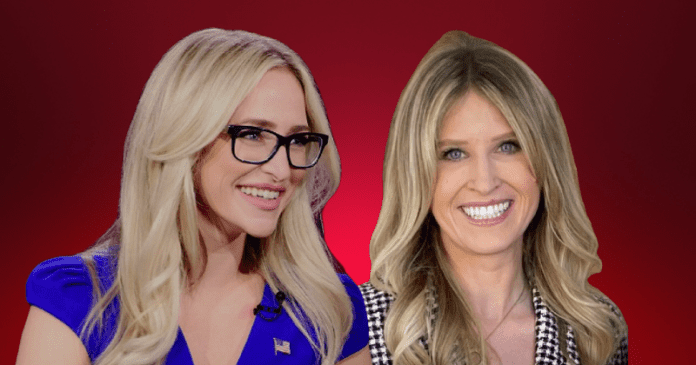 With less than two weeks to go, the Republican primary in Florida State House District 17 in Northeast Florida has become a free-for-all between Jessica Baker and Christina Meredith.
Baker, a former local prosecutor, is running against Meredith, who is an officer in the Army National Guard, for the open seat.
From the start of the contest, Baker's campaign went on the attack against Meredith, sending out mailers and running TV ads accusing her of being a "California liberal."
Mailers sent out against Meredith have accused her campaign of being supported by Democrats and radical leftists, running a fake charity and not voting for Ron DeSantis or former President Donald Trump.
Some publications have run stories on Meredith's campaign, questioning her conservative credentials.
In July, Florida's Voice News ran a piece insisting that Meredith's campaign was being "bankrolled" by liberal donors.
The article listed the names of a few registered Democrats that donated to Meredith's campaign while leaving out Republicans who donated to her campaign.
The Meredith campaign fired back that the money from local Democrats is from business owners who are opposing Baker based on her relationship with her campaign consultant and husband, Tim Baker.
Some donors to Meredith's campaign told Florida Daily that they were backing their candidate because of their displeasure with Baker's husband being involved with the failure of selling off local power company Jacksonville Electric (JEA).
Meredith's campaign material highlights the FBI investigation of JEA that took place and attacks Tim Baker. While Tim Baker was a consultant on the proposed sale, he is not the target of any ongoing investigation. Tim Baker has not been charged with any criminal wrongdoing.
Baker's campaign has attacked Meredith for not supporting Trump in 2016 and DeSantis in 2018, accusing her of not voting in Republican primaries in those election cycles. When asked about these attacks, Meredith said she was on active duty in the military and pointed to many occasions when she and other soldiers would not see mail for some time, depending on where they were stationed.
Florida Daily reached out to the Florida Secretary of State's office that oversees the state election process.
An official with the office agreed with Meredith's comments and told Florida Daily that it was common to see election ballots sent to active military personnel not come back based on where the service member was stationed.
Meredith said she supports DeSantis and that she voted for Trump in 2020. She said the Baker team is trying to paint her as a liberal and not a Trump supporter.
The Meredith campaign says the real liberal in this race is Jessica Baker. Meredith's campaign sent out a mailer showing information from the Leon County Supervisor of Elections' office showing Baker was a registered Democrat in 2008. "Just in time to vote for Barack Obama," the piece noted. The Meredith campaign insists the real never-Trumpers are backing Baker. Meredith's team also pointed out that a firm associated with Jessica Baker was trying to stop Trump in 2016.
In March 2016, Politico reported that a GOP Florida-based firm spearheaded the "Never Trump" movement in the state. The Meredith campaign noted that Tim Baker was a partner with the firm.
"The Baker campaign is just reaching," Meredith said. "They keep calling me a California liberal but they haven't listed any positions that claim what I'm a liberal on."
Meredith pointed to her endorsement from the social conservative group Florida Family Action.
"If I am such a liberal. then why are pro-life groups endorsing me?" asked Meredith.
The Baker campaign has also raked in some prominent endorsements from business groups like the Florida Chamber of Commerce and the Associated Industries of Florida (AIF) as well as from the Fraternal Order of Police and Jacksonville Firefighters.
Baker also showcases the support of more than a dozen elected officials, including U.S. Reps. John Rutherford, R-Fla., and Michael Waltz, R-Fla., and local City Council officials.
But former Jacksonville City Councilman Matt Schellenberg said nobody should be surprised that local Republicans are backing Jessica Baker.
"The local elective endorsements are all clients of her husband," Schellenberg said. "Of course, she will get them.
"These claims against Meredith are completely bogus," he added.
Political insiders tell Florida Daily they believe Baker has the upper hand due to her endorsements and her lead in the money chase. Still, they added that Meredith has put up a good fight, especially for a first-time candidate.
The primary will be held on August 23.