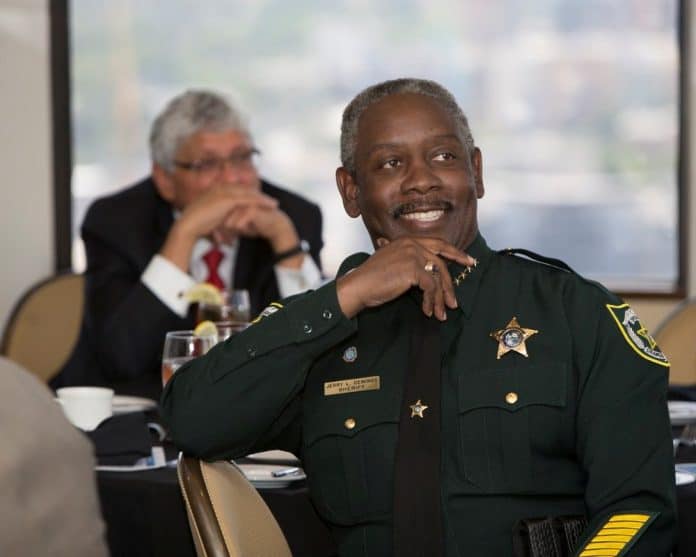 Orange County Sheriff Jerry Demings made history as he became the first African-American to be elected as mayor of Central Florida's largest county–but much will remain the same despite despite his assuming office this week.
Outside of Demings' big win, Democrats reached their long time goal of taking over the Orange County Commission, controlling it with a 5-2 margin. Despite that,  it looks like there won't be many changes to Orange County politics and voters should expect much of the same in the months to come.
The gravity of the moment was clearly visible as Demings took over the county. As he took office, Demings had to wipe away tears from his face as he described his lifetime of experiences, including describing his pride in the accomplishments of his sons in raising their families. He also talked about the difficulty of a rigorous campaign. Demings dedicated his campaign to his mother who passed away at the age of 95 and called his 96 year old father a major inspiration.
"It is a blessing for him to have lived long enough to witness what he dreamed," Demings said about his father. "As the son of a taxi driver and maid, I hope that my rise will inspire others to dream big, and to believe that they too can achieve the desires of their heart."
Being the first African-American mayor in Orange County will be a challenge but Demings plans on getting help from the right as well as the left. Demings is fully aware of the need to get along with both sides of the aisle, beginning his address by asking for a moment of silence in honor of the late President George H.W. Bush, calling him a "great American"
"Regardless of your political affiliation, I am committed to working hard every day on your behalf as Orange County's mayor," Demings said.
Demings is not planning a huge shift when it comes to policies. He said his top priority is improving the availability in affordable housing. This has been a goal of former Mayor Teresa Jacobs, a Republican, had been working towards before she decided not to seek another term, paving the way for Demings to take over. That being the case, plans are well underway to expand affordable housing, including a massive retool of the intersection of Pine Hills Road and Silver Star Road, which is right across the street from struggling Evans High School, as the county looks to create a large housing project that will be a public private partnership.
"The goal is to, number one, create opportunities for the development of affordable housing through regulation and incentives. Two: encourage diversity of housing types. Mixed income developments and sustainable buildings and infrastructure techniques. Three: preserve the existing housing stock through financial mechanisms and community partnerships," Demings said.
Demings plans to keep current job incentives in place and is not intending to change the handling of the tourist industry. The new mayor left no doubt he plans to continue to offer government money to attract high wage, high tech jobs to Orange County. This will be welcome news to the political class which has benefit from that advertising.
Demings has opened the door to changes in tax policies. For years, politicians in Central Florida have wanted a "dedicated funding source" for the Lynx bus system, which means a transit tax, something voters have repeatedly rejected.  The new mayor will push for a transit tax to fund buses and Sunrail but he will likely be thwarted by the Legislature. Elected officials in counties with Sunrail have been calling for a tax across several counties to fund that train and the region's bus system. But current state law does not allow this kind of tax and there is little appetite for it in the Legislature.
With little in the way of plans for change, Demings could clash with the left, namely the two new commissioners and Commissioner Emily Bonilla who was elected in 2016. It will be interesting to see just how much influence these three commissioners  will have in the new Orange County.
Reach Mike Synan at Mike.Synan@floridadaily.com.
Latest posts by MIKE SYNAN
(see all)