 Promising to serve only eight years in Congress if he is elected, Ocala Mayor Kent Guinn jumped into the crowded Republican primary to replace retiring U.S. Rep. Ted Yoho, R-Fla.
When he first ran for Congress in 2012, Yoho pledged to serve four terms, a promise he ended up keeping. Now Guinn is following the same game plan.
"Today, I am thrilled to announce that I am running for Congress in Florida's Third Congressional District," Guinn said as he launched his bid on Thursday. "Nothing in my life has been easy, I've had to work for everything I have. Now, I'm ready to take the fight to Washington, DC to fight alongside President Trump to Keep America Great. Out-of-touch liberals like Nancy Pelosi, Adam Schiff and Alexandria Ocasio-Cortez are trying to fundamentally change our country into a socialist wonderland, and I cannot, in good faith, sit back and watch them continue to undermine our president anymore. The time to act is now.
"As your next congressman, my agenda is simple and one of commonsense solutions: keep government's hands off our guns, stand up for our brave veterans and law enforcement officers, defend life at all stages, negotiate better trade deals for our Florida farmers and growers, and, of course, build the wall," he added.
Guinn stressed his support for life as he launched his campaign.
"For me, the issue of life is personal. I was put up for adoption before my first birthday. My birthmother was only 19 years old when she had me. She could have easily made a choice to abort me, but chose to place me for adoption in order to provide me with a better life," Guinn said before turning his attention to term limits.
"Every other year we hear politicians talk on the campaign trail about how they are in favor of term limits, yet nothing ever happens. Floridians are sick and tired of the empty promises. Well, I have listened to them and that is why I will be term-limiting myself and commit to serve a maximum of four terms (eight years) because after eight years in Congress, you become part of the problem, not part of the solution," Guinn said.
Guinn faces a crowded Republican primary field which includes longtime Yoho aide Kat Cammack, former congressional aide Joe Millado, Clay County Commissioner Gavin Rollins, businessman Judson Sapp, physician James St. George and businesswoman Amy Pope Wells in the Republican primary. Former Gainesville City Commissioner Todd Chase my also surface as a Republican candidate.
Four Democrats–Adam Christensen, Phil Dodds, Richard Rowe and Tom Wells–are running in this solidly red district which stretches from Clay County to parts of Gainesville and Ocala.
Reach Kevin Derby at kevin.derby@floridadaily.com.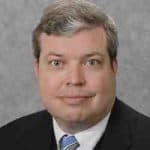 Latest posts by Kevin Derby
(see all)